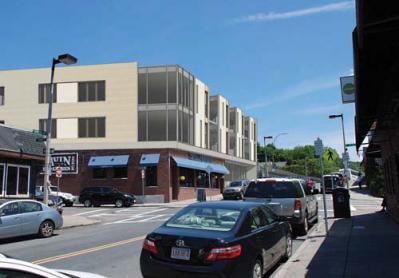 An architect's rendering depicts a proposed condominium project above and next to Savin Bar & Kitchen on Savin Hill Avenue. Image courtesy RODE Architects Inc.
Developers behind a proposal to build condominiums on top of the Savin Bar & Kitchen and a long-vacant plot of land next door explained some details of the plan on Tuesday night. In an appearance before the Columbia Savin Hill Civic Association's planning committee, the developers and their architects discussed the transit-orientated proposal for 14 units of housing, which would be located directly across from the Savin Hill MBTA station. There would be space for retail on the first level.
Private developer David Higgins, who has co-owned the property for almost over a decade, is partnering up with Ken Osherow and Driscoll Docanto, who own Savin Bar and Kitchen. Osherow also owns McKenna's, a popular breakfast nook, and Savin Scoop, the ice cream store on the same block.
The proposed units, which would overlook I-93, would be cantilevered over the restaurant, but the beams would be hidden behind a façade. "At the end of the day, it looks like one building," Docanto said.
RODE Architects' Eric Robinson and Kevin Deabler are handling the design of the building. They also had worked on the aesthetics of Savin Bar and Kitchen, which replaced Donovan's, a neighborhood bar.
"We strongly believe this is good for us and the community," Docanto said. "This is going to bring new blood to the neighborhood."
Docanto said he did reach out to abutters and others in the area, including Cristo Rey Boston High School. He acknowledged that the block is busy and "getting busier."
Eileen Boyle, who chairs the Columbia Savin Hill Civic Association, attended the planning committee meeting and voiced her concerns about the affordability of the proposed units. She pointed to South Boston, where prices keep going up for rentals and residences.
"That's what I'm afraid of" happening in Dorchester, she said.
Higgins said he would work to keep prices reasonable.
Gail Hobin, an abutter to the property who lives on Sydney Street, asked about cars and the effect of neighbors' views once the three-story building goes up.
"Parking is going to be an issue," she said. "The view, once you start building up."
Docanto acknowledged the concerns about parking, and said he is concerned as well.
"It's important for us to be good neighbors," he said, adding that many of the potential residents would be commuters who use public transportation.
For his part, Higgins pointed to the present state of the property.
"It's a hole in the ground," he said.
"It's awful," Hobin agreed.
The developers expect to appear before the Columbia Savin Hill Civic Association at its monthly meeting on Monday, April 7.
The proposal will likely go before the city's Zoning Board of Appeals in April or May.