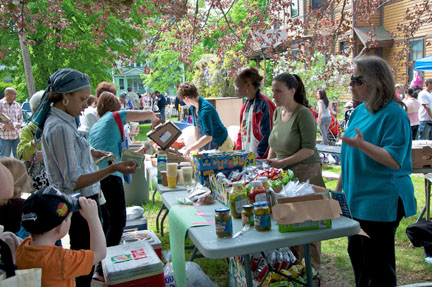 A snapshot of key events happening in and around Dorchester this week. Check out the Reporter's full calendar for more [2].
Saturday (17th) – The Ashmont Hill Association returns with its 35th Annual Garage Sale with over 40 homes participating. This year you may find items like antiques, furniture, tools, computers, household items and much more. There will be food available at the Ashmont Nursery School.
In 1979, Ashmont Hill Association began its annual event with just a dozen homes as a way to introduce people from other parts of the city to its neighborhood, and to showcase their beautiful homes. "At the time people were moving out of the neighborhood and [AHA] wanted to show people it is beautiful and there is no reason to move out," said Joe Gildea, who organizes the annual event.
Over three decades later, the garage sales have grown up to 60 houses. The success of the sales each year has allowed for it to consistently grow. "It's something to look forward to every year," said Gildea.
The sales begin at Ocean Street off Welles Avenue and continue throughout the Ashmont Hill area. If you are traveling by T, take the Red Line to Ashmont. Maps will be available at each yard.
Editor's Note: Due to inclement weather, the sale may be postponed. Call the Ashmont Hill info line for updates: 617-822-8178.
– JEANETTE ORIGEL
Carney Hospital Health Fair and open house, 10 a.m.-2 p.m. Free health screenings, health education, fitness demonstrations and fun activities for the entire family at 2100 Dorchester Ave.
Ashmont Hill Chamber Music 2014 Concert Series [3] opens with a 7 p.m. benefit house concert under the direction of artistic director, Mary Beth Alger. The highly acclaimed Claremont Trio will perform at 60 Ocean St. The special performance will feature works by Beethoven, Shostakovich, and Brahms with violin, cello and piano. Tickets are $90. Drinks and light appetizers served. For more details, visit ahchambermusic.org.
Sunday (18th) – The 14th Annual Haitian American Unity Parade starts at 1 p.m. from Mattapan Square and marches north to Franklin Field. The parade will trigger street closures along Blue Hill Avenue northbound for much of the afternoon.

Monday (19th) – Mattapan United hosts a community forum on Education, the second in its "Knowledge is Power" series. The forum will take place from 6 to 8 p.m., at the Mildred Avenue Community Center, 5 Mildred Ave., Mattapan. Speakers will include retired Mattahunt Principal Nancy Dickerson, City Councilor Charles Yancey, Boston Teachers' Union Director of Organizing Jessica Tang, and Boston Renaissance Principal Roger Harris.


Parade GuyFriday (23rd) —The annual Dot Day 10K Drawing fundraiser to aid the parade features cocktails and, of course, the big cash drawing. It starts at 7 p.m. at Florian Hall, 55 Hallet St. To purchase tickets ($100 for a drawing, $25 for general admission) call 617-909-6451.