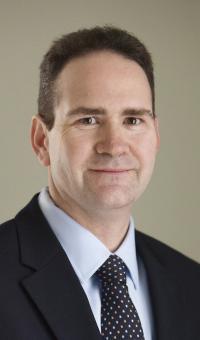 Gene Gorman is focusing on three letters: RSA.
The new executive director of Bowdoin Geneva Main Streets operates on acronyms, something the one-time professor says used to drive his students nuts.
Gorman is anything but simply a former professor and his "RSA" acronym emphasizes that. The letters stand for Reporter, Salesperson, and Aide de camps, all reminders of the different roles he has to play as the head of the Main Streets organization.
They are all also jobs that Gorman once held, which no doubt helped when he applied for this position. Most recently, Gorman ran for the state representative seat vacated by Mayor Martin J. Walsh, a race won by Rep. Dan Hunt in a five-way primary in March.
Despite the loss, the long days of knocking on doors and soliciting donations required in campaigning helped to highlight Gorman's strengths to the board charged with finding a new executive director. "Staying motivated, fighting through exhaustion, and raising money. Obviously that's what the board was looking for," said Gorman.
"When you run for office, there's a tenacity and hunger for that engagement and that's right in line for what we're looking for in the next couple of months," said Yvonne Ruggles, a Bowdoin Geneva Main Streets board member. Gorman was plucked from a pool of seven highly qualified candidates and stood out because of his highly diverse background, Ruggles said. That background includes jobs as a newspaper reporter, professor of literature, producer/director of his own production company, and member of Mayor Walsh's transition team.
"I'm not a NIMBY guy. I intend to address the job," Gorman said. "People deserve to live where they have lived, where they are vested and feel at home. If you don't feel safe at home, that needs to be addressed. We have a crisis in that neighborhood when it comes to crime," he said. "We have challenges with economic development and problems with historical preservation. I have to meet these challenges head on and cultivate relationships with people on every level."
Gorman's first challenge: Engage small businesses, which shouldn't be tough for him, his supporters say.
"We want Bowdoin Geneva to be a destination. Cesaria's for dinner, Ashley's for breakfast, and I think he can make that possible," said Father Jack Ahern of St. Peter's parish who has known Gorman for nearly a decade and counts him and his wife and two children among his parishioners. "He's someone who is bright, energetic, and a consensus builder, which in Bowdoin Geneva is important."
Ahern recalled Gorman's work with the Roger Clap Elementary School when the Boston Public Schools moved to close its doors. Gorman, whose son attended K-1 at the school at the time, and other parents fought to re-open the Clap as an "innovation" school. He played a part in redeveloping the curriculum and persuaded a former student of his to help produce a video yearbook for the school.
"He's someone that easily engages in neighborhoods where they need assistance," Ahern said.
Gorman's experience in academia also lends itself to grant writing, a huge aspect of the job. "There's a huge potential for him for bringing in grant dollars to support the work," said Mark Culliton, CEO of College Bound Dorchester. "But he's also not someone who's afraid of getting out there to work with business owners and residents."
Gorman acknowledged that his new organization is at the tail end of a transition, and he and others give credit to Katie Reed, the group's interim executive director, for steering the group to safe harbor over the last 10 months.
"It's not sunshine and it's not fun to talk about ugliness in your past," Gorman said. In late 2012, the Bowdoin Geneva Main Streets executive director was abruptly fired, and Reed was left to pick up the pieces. "Katie Reed has put us on firm footing. Now it's just a matter of me coming in with my particular strengths and building off of all she's done," said Gorman. "My goal is to wake up refreshed and confident and go to bed exhausted and a little scared."