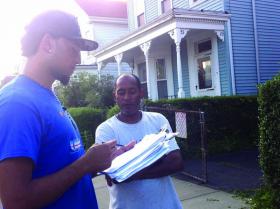 Hitting the streets: Cesar Monteiro, 19, spoke with a resident of North Avenue in Roxbury as he collected survey responses this week. Photo courtesy CVC UNIDOCape Verdean youth based out of the Catholic Charities Teen Center at St. Peter's on Bowdoin Street are surveying local neighborhoods this summer to collect data on residents' concerns. The project, run by the Youth of Cape Verdean Community UNIDO (CVC UNIDO), was founded by St. Peter's director, Paulo Debarros.
The group has been active for the past three summers, providing summer jobs for teens while advocating for issues within the Cape Verdean community.
Last summer, in the middle of a mayoral election, the project focused on voter registration and organized a mayoral forum at First Parish Church.
This summer, the group is focusing on collecting information about the Cape Verdean community's concerns. Each day the teens venture out to Dorchester and Roxbury with clipboards to conduct their interviews, which will be presented to city officials. The goal is to have 500 surveys completed in each neighborhood. The survey seeks to calculate the percentage of people concerned with violence, lack of youth jobs and adult jobs, diabetes, and other topics.
Chantal Barbosa, 20, works as a project supervisor and is also the president of the Cape Verdean Student Alliance at UMass Amherst. Barbosa says using teens who live in the area has been extremely helpful because they are aware of where to find other Cape Verdean families.
Youth jobs and bilingual education was the topic of the mayoral forum the teens organized last year. They feel these are still the most relevant issues in their community. Their goal is to persuade city officials to build a bilingual school that will improve student's academic achievement.
Said Barbosa: "The lack of youth jobs leads to negative things in our community; robbery, assault, and violent crimes."
Nineteen-year-old Cesar Monteiro, a youth supervisor, was a youth leader last year. He was one of two asked to speak about the issue of youth jobs at the mayoral forum. "Last year I would have never thought I would be giving a speech in front of a lot of people and the 12 candidates for mayor," he said. "That's something that after I did it I was really proud of myself and the message I was giving to the community."
Youth coordinator and supervisor Augusto Teixeira, 22, believes the group's efforts last summer helped to influence more voter turnout in the neighborhood. "The voting history in this community hasn't been so great so it's very good to know that we worked towards that and we actually changed it," said Teixeira.
Teixeira said he did not care much about the problems in his community before his involvement with the project. Now, he feels that working with his neighborhood first hand has made it personal. "To be honest I would do pretty much anything to make this community better," he said.
A vision for their neighborhood is something the youth have in common. Monteiro has been involved since age 14 at the St. Peter's Teen Center. Throughout the years he has continued to be involved and has picked up a lot of knowledge in that time.
James Pierre, a youth worker at St. Peter's, worked with Monteiro on the Evandro Carvalho campaign last year. "[Monteiro] was one of the youngest people working in the campaign office with us, said Pierre. "He is very well rounded when it comes to everything in the neighborhood and in politics."
Working with CVC UNIDO has influenced Monteiro to think about becoming a police officer or private detective. It would be a way to protect teens and make sure they go in the right path and help them build and achieve their goals. "A lot of people think as a youth you don't have the power to make changes but they have to understand we as a youth have a learning curve – the more we do it, the better we'll be at it. That's something I always keep in mind," he says.
The non-profit CVC UNIDO organization provides services, including citizenship and Cape Verdean Creole classes, and also provides help with obtaining a passport through the Cape Verdean Consulate. "We want to make sure people know about us and that they can come into our office if they have new ideas or new issues that we can focus on," said Barbosa. "We want them to know we are here to help them."
For more information about CVC UNIDO and the Youth Leadership Academy visit cvcunido.org or Facebook.com/CVCUnido.