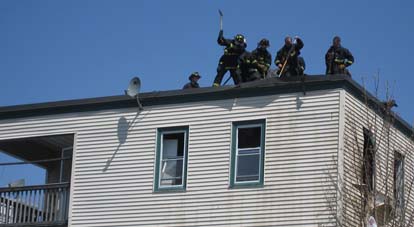 St. Margaret Street Fire: One firefighter was injured in the Saturday blaze. Above, firefighters work on the roof of 39 St. Margaret St. Photo by Adam Pieniazek
A two-alarm fire caused $350,000 in damages and brought at least eleven fire trucks and over fifteen additional emergency response vehicles to 39 Saint Margaret Street this morning. The Boston Fire Department received a call at 11:13 a.m. for a house fire at the owner occupied three decker. The first floor of the Dorchester household was unoccupied, with the second floor occupied by the owner and the owner's children lived on the third floor. All of the residents escaped injury, but a firefighter was hurt in a fall inside the dwelling.
Grey smoke billowed out the windows and roof of the building. Steve MacDonald, Chief Information Officer for the Boston Fire Department, said the fire began on the third floor in the rear of the building. The official cause of the fire is yet to be determined but MacDonald pinpointed a dryer as the likely cause. Other electrical sources for the fire were yet to be ruled out. From Mayhew Street, firefighters were seen driving an axe into the roof to ventilate the smoke. No other buildings were damaged by the fire.
More photos here [1].