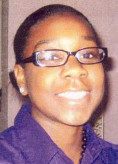 [2]UPDATE: Police report she has been found and is back home with her mother.
Michelle DeVaughn, 14, went out for some pizza around 6 p.m. on Monday and never came back or called, the Boston Police Department's District B-3 reports.
Police say she's 5'6" and 135 lbs.
She was last seen wearing a black sweater, jeans and a white pair of Nike sneakers.
If you see her, contact B-3 detectives at 617-343-4712 or call 911.