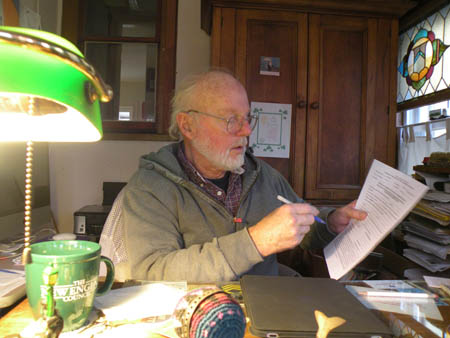 The landlord of a troubled property on Savin Hill Avenue home has started the process of evicting a trio of tenants arrested after a large brawl outside the house [2] earlier this month. But Boston's complicated eviction process means the raucous residents are likely to remain in the apartment for at least another month and a half.
On Dec. 9 around 10:45 p.m., more than a dozen Boston Police officers from districts C-11 and C-6 responded to reports of as many as 20 men throwing punches outside 47-49 Savin Hill Ave, leading to the arrest of five people, including three of the building's first-floor tenants. 
Two of the tenants, Robert Allison, 26 and Demetrius Allison, 24 ,were released on bail. However 19-year-old Nadeo Mason, who was on probation for receiving a stolen car at the time of his arrest, was held without bail. All three are due in Dorchester District Court on Jan. 6.
According to police records, the property at 47-49 Savin Hill Ave has been visited by police on at least four occasions in the past year – including a drug arrest and two cases of assault and battery – making it a candidate for Boston's recently-organized Problem Property Task Force. If placed on the registry, police would increase surveillance of the area and fines could be levied against property owner, My Van Nguyen.
Jay Walsh, the director of the Mayor's Office of Neighborhood Services, said Nguyen has already begun eviction proceedings for the three tenants and has been cooperative with building inspectors and BPD, meaning the property may stay off the city's watch list.
"The overall goal is to find a solution to the problem and more often than not it's people, not a property that is causing problems," Walsh said. "If you have a cooperative landlord working with you, then that problem should go away."
Walsh added that police are doing what they can to assist in the eviction process by "outlining the nature of the problem and providing details to show that there has been a history of issues stemming from the individuals responsible for this latest incident."
In response to the fight, city building inspectors visited the property on Dec. 14 and found several minor violations involving leaking pipes and damage to exterior doors. Inspectional Service Department workers last studied the property in May and found overcrowding in several units but have since reported the problem as resolved, according to ISD documents.
While city officials said they were working with Nguyen to expedite the process, court constable Alan Duffy, a Dorchester resident, said there was little local government could do to get the ball rolling.
"The city doesn't have anything to do with the procedure," Duffy said. "All they can do is come up with documents that show they have been bad tenants; the rest is decided in court. It all comes down to the procedure."
Boston Housing Court holds general hearings on Thursdays and court operations director Paul Burke said that last year, about 25,000 of the 42,000 cases to come before Housing Court centered on evictions.
Despite Nguyen's speedy response to the Dec. 9 incident, Joanna Allison of the Massachusetts BAR Association's Volunteer Lawyers Project, which provides legal assistance to tenants and landlords in Boston Housing Court, said an eviction for issues other than the non-payment of rent could take a minimum of ten weeks. And, she added, that is "assuming everything goes snap, snap, snap" and neither side files for additional documents or information during the discovery phase of the trial.
In order to evict a tenant, Allison said landlords must first issue their tenants a Notice to Quit document 30 days prior to the date the next rent check is due through a court-approved constable. Following that 30-day period, a landlord officially files a Summons and Complaint with the court and the tenant, at which point the renter has a week to file a response to the complaint with the court.
Once the tenant's response is filed, a trial date is scheduled for the next available Thursday and the judge's decision is filed the following day. Once the judgment is filed, a renter has 10 days to appeal, at which point the landlord can go to court and receive an execution order. That document is brought to the tenant by a constable and gives 48 hours to remove belongings. Failure to comply will result in the constable hiring a moving team to take the belongings to a storage unit at the tenant's expense.
Allison said that rather than going through the lengthy eviction process, Nguyen could potentially shave 16 days off the timeline by indicating the tenants are a threat to public safety through a legal clause that specifically targets tenants involved in prostitution or the illegal sale of drugs or alcohol, but that would require a police officer or neighbor to testify in open court.
"One of the problems a landlord faces is he has to prove the cause he alleges; he can't just bring in the [police report,] he needs to bring in a police officer or a neighbor to explain the public nuisance," Allison said. "Landlords find it particularly hard to get neighbors to do this since it puts them at risk. They can't guarantee their safety."