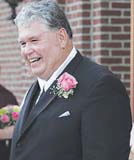 Brian LeahyNeighbors and friends of the Leahy-Holloran Community Center in Neponset will brave the cold waters of Tenean Beach for the first annual Polar Bear Plunge on New Year's Day at 4 p.m. (Organizers have changed the time from the morning to afternoon due to tides.) The plunge— dedicated to the memory of community center namesake Brian Leahy— will be followed immediately by a pizza party at Boston Bowl.
The cost is $25 per person including the pizza party and the first 50 people that register will receive a Polar Bear Plunge hooded sweatshirt.
Leahy, who passed away suddenly in January 2009 after suffering an aneurysm,  lived in Dorchester his entire life and was proud to call it home.  Leahy was a sports enthusiast who was involved in football for most of his life and was inducted into the Cathedral High School Hall of Fame.  He received a football scholarship to Boston College and later played in the Marine Corps.  Leahy served as an official at football games at several high schools in Boston and also announced games later after he was sidelined by a hip replacement.   
Leahy went to work for the Massachusetts Water Resources Authority in 1986.  His previous work as the Executive Director of the State-Boston Retirement System and Special Assistant to Mayor Kevin H. White for Intergovernmental Affairs he thoroughly enjoyed.  This post put him in City Hall and allowed him to help the people of Boston in more ways than his job afforded.  
Craig Galvin, the vice president of the Leahy-Holloran Community Center's executive board, is running the plunge. Galvin explained that "this idea was conceived because of Brian's love for his community and we thought this would be a great way to bring us all together."
"He swam regularly on New Year's Day to kick off the New Year," Galvin said.  "He loved Tenean Beach and would swim there all the time. Brian was a leader of our community and always stood up for what he believed in, he was always willing to help. We think that this idea of the entire community getting together around Brian will be a fitting tribute to remembering a guy who loved Dorchester."  
Brian was an L Street Brownie for 10 years and took part in their 'Polar Plunge" every New Year's Day.  
To register for the Polar Bear Plunge please contact Craig Galvin at 617-947-6424. The event is also sponsored by Phillips Candy House, Ramada Inn, Carney Hospital, Team Sully Mac, Freeport Tavern, Boston Bowl, Deadwood Café, Comfort Inn and Local 103.