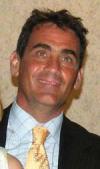 Councillor Frank BakerNewly-elected City Councillor Frank Baker (District 3) was handed the chair of the Arts, Film and Tourism Committee as City Councillor Charles Yancey (District 4) was slid out of the chairmanship of the Post Audit and Oversight Committee, under the committee assignments for 2012 released on Wednesday by City Council President Stephen Murphy's office.
Yancey, who is a frequent critic of the Menino administration and often used the committee as a bully pulpit, received the chairmanship of the Environment and Health Committee instead. City Councillor Tito Jackson (District 7) who was the vice chair of the Post Audit committee last year, ascended to the top of the committee.
City Councillor Bill Linehan (District 2) stayed atop two committees that will command the spotlight in 2012: The Census and Redistricting Committee, which is handling the redrawing of the political boundaries for the city's nine council districts, and the Economic Development and Planning Committee, which will be tackling the siting of a casino in Boston. Murphy had originally intended to set up a special committee on gambling, but backed off [2] after he was approached by his colleagues.
City Councillor Matt O'Malley (District 6) assumed the chairmanship of Government Operations, which was previously held by former City Councillor Maureen Feeney (District 3).
City Councillor Mark Ciommo (District 9) retained his post as chair of the budget-reviewing Ways and Means Committee, while City Councillor At-Large John Connolly kept his Education Committee chairmanship.
City Councillor At-Large Felix Arroyo was appointed to head the Special Committee on Asthma and kept his post as chair of the Labor and Youth Affairs Committee.
The full committee list below:
ARTS, FILM and TOURISM: Baker (chair), Pressley, Arroyo, Jackson and Ross
CENSUS and REDISTRICTING: Linehan (chair), Baker, Arroyo, Connolly, LaMattina, Pressley and Yancey
CITY, NEIGHBORHOOD SERVICES and VETERANS AFFAIRS: LaMattina (chair), Ross, Ciommo, Consalvo, Jackson, Linehan and Yancey
ECONOMIC DEVELOPMENT and PLANNING: Linehan (chair), O'Malley, Baker, Ciommo, Connolly, LaMattina and Pressley
EDUCATION: Connolly (chair), Jackson, Ciommo, Consalvo, LaMattina, O'Malley and Pressley
ENVIRONMENT and HEALTH: Yancey (chair), Connolly, Arroyo, Baker, LaMattina, O'Malley and Ross
GOVERNMENT OPERATIONS: O'Malley (chair), Yancey, Consalvo, Jackson, Linehan, Pressley and Ross
HOUSING: Consalvo (chair), Arroyo, Baker, Ciommo and O'Malley
LABOR, YOUTH AFFAIRS and HUMAN RIGHTS: Arroyo (chair), Linehan, Ciommo, Consalvo, LaMattina, O'Malley and Yancey
POST AUDIT and OVERSIGHT: Jackson (chair), Ciommo, Arroyo, Baker, Connolly, Linehan and Ross
PUBLIC SAFETY: Ross (chair), Pressley, Baker, Consalvo, Linehan, O'Malley, and Yancey
RULES and ADMINISTRATION: Murphy (chair), LaMattina, Arroyo, Ciommo, Linehan, Pressley and Ross
WAYS and MEANS: Ciommo (chair), LaMattina, Connolly, Consalvo, Jackson, Linehan, O'Malley, Pressley and Yancey
COMMITTEE OF THE WHOLE: Murphy (chair) and all councillors
WOMEN and HEALTHY COMMUNITIES: Pressley (chair), Consalvo, Arroyo, Jackson and Ross
SPECIAL COMMITTEE ON ASTHMA: Arroyo (chair), LaMattina, Baker, Jackson and Yancey