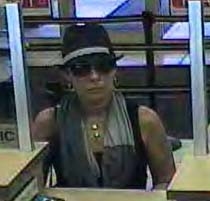 Suspected bank robberJust hours after the FBI released surveillance images showing the female suspect in a string of bank robberies in Dorchester in recent weeks, the feds have a Dot woman in custody. She's not yet been charged with the local hold-ups, but Johanna P. Quish, 46, is being charged for allegedly robbing a Sovereign Bank in downtown Boston last month. She was arrested today without incident at 2p.m. in Danvers after State Police and the FBI received a tip after news reports showing images of the suspect were circulated today.
Last Friday, a woman robbed the Citizens Bank branch at 731 Morrissey Blvd. around 10 a.m. The same suspect held up a Members Plus Credit Union branch at 494 Gallivan Blvd. about two hours later.
The suspect was described as white, with long hair, wearing a white scarf, glasses and a "cargo style" hat. She was carrying an umbrella on Friday. She is a white female, approx. 5'3" tall, late 30's, long brown hair.
The FBI's Bank Robbery Task Force thinks the same woman is also responsible for robberies at the Sovereign Bank on Gallivan Boulevard on April 21. It is not yet clear if Quish will face charges for any other bank robberies.