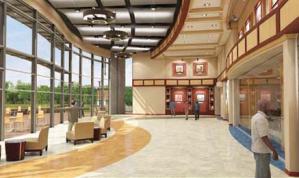 A Cambridge native who received his Boston College High School diploma from the hands of the Jesuits 60 years ago is giving back to his alma mater and the Society of Jesus in a big way.
Citing his Jesuit education as the pivotal factor in his personal formation and professional success, Patrick F. Cadigan, a California real estate investor who previously worked at the CEO level in the high tech industry, has pledged $12 million to the Morrissey Boulevard institution, which will use the funds to build the Cadigan Hall for Arts and Recreation, a center for arts and recreation that will provide additional studio space for BC High's fine and performing arts program and a new gymnasium for its Arrupe middle school division.
The gift is the largest in the school's history and the largest ever received by a Catholic secondary school in New England.
Cadigan has also pledged an additional $15 million to Boston College, which will dedicate the Cadigan Alumni Center next month, a new facility that will house BC's fundraising, alumni relations, and parent relations offices.
In announcing his substantial donation, Cadigan said, "My education at BC High and Boston College was a great experience that taught me the importance of hard work, and instilled in me values and discipline that stayed with me throughout my years. The foundation I received at both schools left an indelible impression on me, and prepared me for success in business and in life."


"My parents were not able to obtain a formal education, so I felt a very personal responsibility to give back to those wonderful schools that educated and shaped me," said Cadigan. "Boston College is so well regarded here in California and throughout the country, thanks to the outstanding efforts of Father Monan and Father Leahy, and BC High under Bill Kemeza is extraordinary. It is an honor for me to support these schools and to thank them for all that they have done for me."
BC High President William Kemeza said Cadigan's unparalleled commitment would have a lasting effect on future generation of students. "We are so very grateful for this magnificent gift. The innovative building that we will construct in honor of this donation will stand as a witness to his generosity and loyalty to the Jesuits, his classmates and the students and teachers who will benefit so much from this new facility."
Boston College President Rev. William P. Leahy, SJ, praised Cadigan for his generosity in giving back to his collegiate alma mater. "Pat Cadigan moved out west as a young man, but never forgot his Boston roots and his affection for Boston College. We are grateful for his generous support and delighted to have our new alumni center bear his name."
Cadigan, the retired CEO and President of Electronic Engineering Company of California (EECO), said that the discipline and moral training of his Jesuit teachers were factors that helped him, as the son of Irish immigrants who worked part-time at his father's bar in Cambridge to help pay for his education, to become one of California's most successful high tech leaders and real estate investors.
After graduating from BC High in 1952 and Boston College in 1957, Cadigan worked as a product manager at Sylvania Electronic Systems in Waltham for five years before being recruited to the West Coast to oversee sales and marketing for EECO. He rose rapidly to become its president and CEO, running the company for nearly 20 years, and expanding it both nationally and internationally. During this time, he also served on the boards of 15 mainly high tech and electronics firms. He retired from EECO after his wife, Barbara, was diagnosed with terminal cancer. He later served as chairman and CEO of several public companies, including Gateway Communications, Inc., and Linear Instruments Corporation.
Cadigan had made investments in real estate in Orange County, CA, for 40 years, a sideline that became his primary focus upon his retirement from the high tech business world.
In addition to his Jesuit education, he received an MBA from Boston University, a degree from Harvard University's Advanced Management Program, and master's and PhD degrees from Claremont Graduate University.
Cadigan resides in Corona del Mar, CA, with his wife Dr. Tandra Cadigan, a noted obstetrician/gynecologist. He is the father of three children: Ann; David, who played professional football for the New York Jets and Cincinnati Bengals; and Maria Cadigan, who graduated from Boston College in 1991. He also has four step-children.
Though separately incorporated, Boston College and Boston College High School share a common history and sponsorship by the Society of Jesus. Both schools will celebrate the 150th anniversary of their founding next year with sesquicentennial activities beginning this year.