C.F. Donovan
By
Gintautas Dumcius, News Editor
Aug. 12, 2010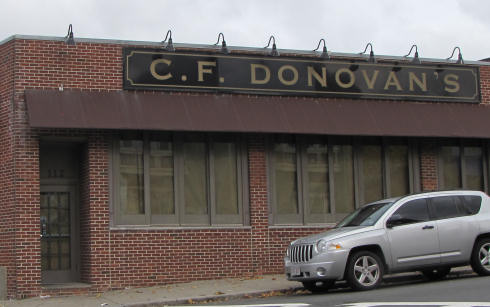 C.F. Donovan's: Sold at auction today for $875,000 to owner of McKenna's Cafe.The site of the former C. F. Donovan's restaurant was sold Thursday morning at a sidewalk auction to the owner of McKenna's, the café across the street, and a local financial planner.
The winning bid for the former restaurant, which longtime owner Arthur Donovan lost to foreclosure, was $875,000. The property comes with a liquor license, a tax lien from the state Department of Revenue, $6,297 in back taxes and outstanding water bills and sewer charges totaling $2,731.
"We're doing it for the neighborhood," said Ken Osherow, president of At Home Real Estate Group, which is located next to McKenna's café. Osherow, who is also planning to open an ice cream shop down the street, said the restaurant will have a "family" atmosphere. Read more
By Staff
Jan. 5, 2010
The Boston Licensing Board has started proceedings that could end with bar owner Arthur Donovan losing his valuable liquor license for his C. F. Donovan's Bar and restaurant on Savin Hill Ave.
Donovan is already close to losing another liquor license he's held for nearly three years for a Cleary Square, Hyde Park restaurant that has never opened. The city closed his popular Dorchester location in November for failing to make payments on $300,000 in city loans used to get the Hyde Park location open. Read more