ron bell
By Gintautas Dumcius
Apr. 4, 2011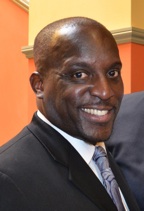 Ron Bell: On the mend after serious heart attack. Photo by Chris LovettA top adviser to Gov. Deval Patrick was released from the hospital Monday after suffering a massive heart attack.
Ron Bell, who serves as Patrick's senior adviser on community affairs, was leaving a Dedham meeting on Wednesday afternoon when he felt a shortness of breath and asked a friend to take him back to the State House.
His friend, Peter Lin-Marcus, instead took him to the emergency ward at Newton-Wellesley Hospital, where doctors ran tests and had an ambulance take him to Massachusetts General Hospital's intensive care unit, Bell said.
"I'm so glad to be alive," Bell, 48, told the Reporter on Monday. Read more