St. Kevin's
By
Gintautas Dumcius, Contributing Reporter
Mar. 11, 2010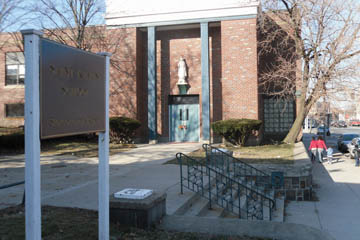 The former St. Kevin parish campus on Columbia Rd.The former St. Kevin's Parish property in Uphams Corner and two parcels of the St. Peter's Parish campus on Meetinghouse Hill are going to be converted into affordable housing for Boston families, with some of the new residents emerging from homelessness.
The Archdiocese of Boston will be conveying the St. Kevin's site to a partnership of three organizations that includes St. Mary's Women and Children's Center, Holy Family Parish, and a nonprofit real estate developer tied to the archdiocese. Separately, the sale of St. Peter's convent and rectory buildings appears to be imminent. Read more
By Nate Leskovic
Mar. 19, 2009
Uphams Corner stakeholders began imagining the future of the former St. Kevin's Parish property with a brainstorming session held last week, mulling over a number of concepts including new educational institutions, shops and restaurants, and green space.
The Archdiocese of Boston recently put the Columbia Road complex up for sale after closing the school last year. Though it has no obligation to consider the community's vision for the space when choosing a developer, participants hope the Archdiocese will factor their ideas into its decision. Read more
By Bill Forry
Mar. 12, 2009
The former St. Kevin's School on Columbia Road, now listed for sale by the Archdiocese: Photo by Pete Stidman.The former site of St. Kevin's Parish on Columbia Road is officially on the real estate market, and local civic and business groups are taking steps to make sure their voices are heard before any transaction happens.
The future of the 2.23-acre Uphams Corner property - which was closed last summer to create the Pope John Paul II academy at five other campuses - will be the subject of three community meetings this spring. The first is set for tonight at 6:30 p.m. in the Cape Verdean Adult Day Care Center on Hancock Street. Although the upcoming meetings are not sanctioned by the Archdiocese, one of the chief organizers said that church officials have been receptive. Read more