Columbia Point
By Anonymous
Jan. 25, 2011
FaNtastic Kids is a fun,FREE 12-week after-school fitness and nutrition program for children between the ages of 8-12. FANtastic Kids is a fun, FREE 12-week after-school fitness and nutrition program for children between the ages of 8-12 who struggle with eating healthily and staying active . FANtastic Kids takes place at the following sites:
DotWell Program at Dorchester House Multi-Service Center
Mattapan Community Health Center
YMCA: Hyde Park, Huntington Ave., Oak Square, Dorchester, Roxbury
The next session begins February 7th and ends on May 11.
Don't miss it!! Read more
By Gintautas Dumcius
Dec. 31, 2010
A top aide to Mayor Thomas Menino is trading in City Hall for UMass Boston. Judith Kurland, who had previously served as Menino's chief of staff, is establishing the Center for Community Democracy and Democratic Literacy at UMass Boston's McCormack Graduate School of Policy Studies.
Kurland served as Menino's chief of staff from September 2006 to December 2009, when she stepped down to take a job as Menino's chief of programs and partnerships.
"It has been meaningful and worthwhile to be part of this team for the past four years, a time that is among the hardest the city has ever had to face," Kurland wrote in an email to colleagues last week. Read more
By
Reporter Staff
Dec. 26, 2010
The city of Boston says that the snow emergency that went into effect yesterday will be lifted at 6 p.m. on Monday. The emergency order means that parking is prohibited on all major arteries in Boston.
In a noon hour press conference on Sunday, Gov. Deval Patrick said that service on the Mattapan high-speed trolley line would be suspended tonight and replaced with buses. All other public transportation is expected to follow a normal schedule.
"Residents are reminded to remain at home throughout the duration of this snow event and businesses tomorrow should consider asking employees to work from home," stated a press release issued by the city of Boston on Sunday morning. The city also is cautioning older residents or those with "health conditions" to "refrain from shoveling this heavy wet snow." Read more
By
Matt Murphy, State House News Service
Dec. 21, 2010
STATE HOUSE, BOSTON, DEC. 21, 2010…. As widely predicted, Massachusetts will lose at least one of its 10 seats in Congress during the 2012 election cycle based on population counts collected during the 2010 Census, according to data released from the U.S. Census Bureau.
During a conference call with reporters, Census Bureau officials confirmed Tuesday morning that Massachusetts is among ten states to be losing at least one U.S. House seat. Read more
By Bill Forry
Dec. 17, 2010
By
Gintautas Dumcius, News Editor
Dec. 17, 2010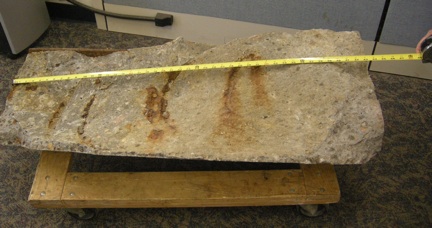 UMass-Boston concrete falls: No one was hurt when this 385 pound section fell in an unoccupied area of Wheatley Hall on Thursday.UMass-Boston officials were reminded this week that parts of the campus are crumbling – literally.
The Columbia Point campus's chief of facilities management said in a Thursday email to Chancellor Keith Motley and other university officials that a 385-pound section of concrete below Wheatley Hall fell from the lower level's ceiling that morning.
No one was injured and the area is not accessible to the public, university officials said, adding that the campus remains safe.
"It fell next to a column in an unoccupied area," Dorothy Renaghan, the assistant vice chancellor for facilities management, said in the email, obtained by the Reporter. Read more
By
Stephen Kurkjian and Pat Tarantino, Special To The Reporter
Dec. 16, 2010
Tina Chery: A pioneer in citywide efforts to curb violence, Chery's son Louis was killed in a December 1993 shooting, not far from her current office in Fields Corner..
The numbers are deeply disturbing: Nearly eighty percent of the shootings in Boston in 2010 have taken place in the three police districts that cover Dorchester, Roxbury, and Mattapan.
Last year, 223 people were killed or wounded by gunfire in Boston, and 174, or 78 percent, of the shootings took place in districts B-2, B-3 and C-11. This year, with several weeks to go, the number of shootings in the city has increased to 258, and, again, 78 percent of them were in these three districts.
The Search for Solutions
BPD Commissioner Ed Davis: Extra pressure on gang members
Rev. Eugene Rivers: Pastor convenes stakeholders, stresses "realism"
George Chip GreenidgeGeorge "Chip" Greenidge: Violent year spurs new calls for answers
Celeste Allan: Murder victim's mom finds community's embrace
Marivelle Crespo and Gina Patterson: BPD team aids families, heads off trouble
Tina Chery: Peace Pioneer seeks to improve coordination of services
Emmet Folgert: On alert for alternativesEmmett Folgert: Veteran youth worker connects teens with jobs
These stark numbers only convey part of the story. The real story, those on the front lines of the battle tell the Dorchester Reporter, is the impact this violence is having on those who live and work in these neighborhoods – and whether they will assert strongly to families, friends, and acquaintances that they will not tolerate the continued presence of guns or further criminal activity in the homes and on the streets of their neighborhoods. And, too, there is the overarching question of the role of the rest of Boston in this enterprise: Will they join Dorchester, Roxbury, and Mattapan – or abandon them – in taking on the challenge of saving the streets. Read more
By
Staff
Dec. 9, 2010
Boston Police report they are looking for a guy they say has grabbed two women from behind and robbed a third.
Police say the most recent incident was yesterday afternoon when a woman had her buttocks touched by the guy twice, first at F and W. 8 streets and then again at F and Tudor streets as she was trying to get away. The suspect was described as a black guy, 5'6", between 16 and 20 in a black jacket with a fur-lined hood and riding a dark bike. Read more
By
Mike Deehan, Special to the Reporter
Dec. 8, 2010
Fourteen would-be charter schools have applied to the State Department of Education to be granted charters to start up new schools in Boston out of 23 across the state. Representatives from several of the applicant schools appeared before a panel of state education officials in Boston City Hall on Tuesday to press their case.
Though plans for the schools are still in the preliminary stages and locations for school facilities are not definite, some of the proponents for the proposals heard Tuesday vowed to serve underprivileged students from Dorchester, Roxbury and Mattapan. Read more