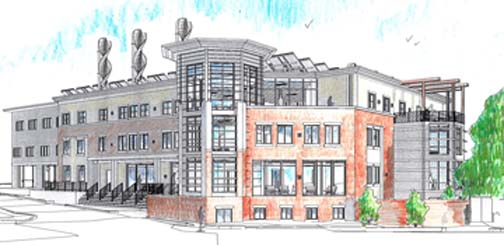 Codman Square Health Campus: An architect's rendering of the proposed new building. Courtesy HKT ArchitectsAn ambitious $15 million plan to build a new health center and school in the heart of Codman Square could begin as soon as September if federal stimulus dollars earmarked for community health centers come through.
That's a big if.
But officials from Codman Square Health Center and the Codman Academy Foundation have begun a "full-court press" to improve their chances of success. If their lobbying pays off, the result will be a state-of-the-art health care and academic center that is already the first of its kind in the nation.
The proposed 32,800 square foot building would be built next to the current health center site on Washington Street. The health center also currently houses the Codman Academy Charter Public School, which has operated for the last eight years inside the center's facilities. The school has been lauded for its high retention rates and for steering nearly all of its graduates into colleges and universities.
The build-out plan, unveiled to the public at last night's meeting of the Codman Square Neighborhood Council, would start with the demolition of three buildings owned jointly by the Health Center and the school's foundation. The three-story building that would rise on the site would include both clinical space for the health center, along with new classrooms and offices for the school. It will also feature shared spaces, such as a cafeteria, a black-box theatre and a rooftop courtyard. It will also include cutting-edge "green" features, including an array of rooftop solar panels and wind-turbines.
Bill Walczak, CEO of the health center, traveled to Washington, D.C. last week to pitch Codman's stimulus proposal to members of Congress. A report generated by the Codman team pitches the "shovel-ready" project as an ideal way to jump-start jobs in city neighborhoods and to marry two key components of the stimulus bill: education and health care.
"Our initial goal was to build it with all private dollars, but then the economy happened to collapse," Walczak said. "Now we have this stimulus packages and it includes more than $2 billion for health center projects. We think this is a damned good idea. It's connecting health care and education. We can solve so many different problems at the same time, including figuring out how to get more people of color into health professions."
"It's now or never," says Meg Campbell, the executive director of Codman Academy. "The opportunity to do this is here and our neighborhood, let's face it, is challenged. We feel like it's a very powerful statement to make this kind of physical investment here. It will be the greenest building in Dorchester."
Walczak met with Senator Kerry's office last week and has also discussed the project with Congressmen Capuano and Lynch, among others.
"They reiterated that this is a great model for other health centers and they are very excited," Walczak said. "Senator Kerry is also looking at other funding sources for this project."
Campbell says that the combined health-center school model is one that is "aligned with national policy" under the Obama administration.
"We're not a health career academy per se, but we believe our students need to be grounded in both arts and science. All students here are required to have four years of science and math. You really need that underpinning. One in five jobs in Boston is health care related. So, this is a school that's already been ahead of the curve for eight years.
Designs for the new building were completed with input from alumni of the academy, along with health center employees.
"We brought our alumni in to meet with architects," says Campbell. "One of the things that came out was that, because we do so much theatre with the Huntington Theatre Company, we are putting in a black box theatre. It's a performance space with 90 seats and there's really nothing else like it in the neighborhood."
While Walczak and Campbell are optimistic that some federal stimulus dollars will be applied to the project, they are also planning to raise further funds through private foundations and New Market Tax Credits, which match private donations.