Most members of the Dorchester delegation are adopting the same stance as their legislative leaders, staying mum on whether Beacon Hill should acquiesce to U.S. Sen. Edward Kennedy's request to give Gov. Deval Patrick the power to temporarily replace him should the seat become vacant. The request became public a week before he died on Wednesday, after a lengthy battle with terminal brain cancer.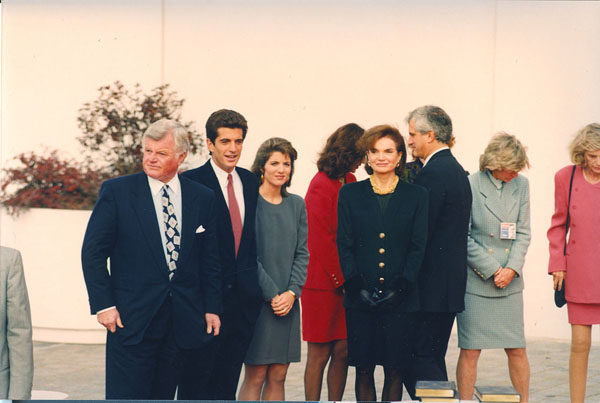 A Gathering of the Clan: There were Kennedys galore at the Kennedy Library on this day in the 1990s: From left, the senator, his late newphew JFK Jr., his niece Caroline, the late Jacqueline Onassis Kennedy, Jean Kennedy Smith, and the late Eunince Kennedy Shriver
Most did not return phone calls or requests seeking comment on a topic that has many on talking – in some cases openly – about what will happen now that the seat is vacant and whether state lawmakers should keep the current law as it is.
In his letter to Patrick, House Speaker Robert DeLeo and Senate President Therese Murray, Kennedy said the state needed to have two senators in Washington, particularly in light of the health care reform debate roiling Capitol Hill. Kennedy asked for a change to state law that would allow Patrick to name a replacement for the five months the seat would be vacant. The person would pledge not to run for the full term, under the proposal.
The few members of the all-Democratic delegation who did respond were split.
While saying he had "tremendous respect" for Kennedy state Rep. Marty Walsh, a Savin Hill Democrat, said he preferred to keep the law as it is – providing for a special election within 160 of a vacancy.
"I agree with allowing the voters to decide any seat," he said. "The idea of having an interim senator – it's a nice, but I don't know how it works."
Walsh said he was concerned over whether ensuring the interim nominee would not serve would be constitutional. "How do you do that?" he asked.
State Rep. Brian Wallace, a fellow Dorchester Democrat, did not return a phone call seeking comment but told the Boston Globe that he was also opposed to changing the law.
The vacancy law was changed in 2004, when U.S. Sen. John Kerry was the Democratic nominee for president. Gov. Mitt Romney, a Republican, possessed appointment power, and state lawmakers feared he would appoint a fellow Republican to the seat.
The State House's small band of Republicans pushed for an interim senator when debate hit the House and Senate floor, but gained no traction. And now they're furious over Kennedy's proposal, saying Democrats are hypocrites – and partisan ones at that – for weighing Kennedy's plan because a Democrat is in the Corner Office.
State Rep. Linda Dorcena Forry, a Lower Mills Democrat was not in office in 2004, said she supports Kennedy's proposal, calling it a "hybrid" of current and past laws.
"One vote makes a big difference in the Senate," which could see a party-line vote on national health care reform, she said. "It's a different time. I think his request is reasonable. We need to have a vote on Capitol Hill."
Rep. Robert Koczera, a New Bedford Democrat, has a bill sitting in the Election Laws Committee that is similar to Kennedy's proposal.
Other Dorchester lawmakers did not return requests for comment, including state Sens. Jack Hart and Sonia Chang-Diaz and state Reps. Marie St. Fleur and Willie Mae Allen.
Allen and Chang-Diaz were not in office at the time of the change in 2004. Allen replaced Shirley Owens-Hicks, who voted for the change, as did then-Sen. Dianne Wilkerson. (Wilkerson took to the Senate floor to defend the move.) Rep. Thomas Finneran, who Dorcena Forry replaced, was the House speaker at the time.
Hart also signed off on the law change, along with St. Fleur, Wallace and Walsh.
Siding with fellow Democrats, they rejected a Republican plan that mirrored Kennedy's current proposal. Senate Minority Leader Richard Tisei (R-Wakefield) told the State House News Service, "It was brushed aside, and the people who were for changing the law were very vocal, so I just don't see how they do a 180 and oppose what they were very much in favor of."
But Koczera stayed positive in a Tuesday interview with the independent Beacon Hill wire service. "I believe that the legislative leaders are attuned to the period of time that Massachusetts would be without its full representation in the United States Senate," he said. "And they would be open and receptive to an interim appointee provided that that appointee is not a candidate in the special election."