Memorial Day weekend has passed and the stakes are in the ground. Whether or not Dorchester's vegetable gardeners got an early start, they appear to be poised for the harvest. Some are using a raised box garden and some have the luxury of an in-ground plot in their yard. And let's not forget the rooftop gardeners (like the innovative dBar restaurant and bar on Dorchester Avenue).
Those without gardens may opt to patronize the local farmer's markets, with an ever-expanding list of locations including Lower Mills, Fields Corner, Codman Square, and now Peabody Square.
If the fresh produce supply in Dorchester now is any indication of life here in 2050, vegetables and fruits will be grown, sold, and shared on every block in Dot.
Every Thursday afternoon in the summer months, the Silverbrook Farm truck rolls up to the Codman Square Health Center to deliver and sell its produce straight from the farm. It's convenient now, but will the farm continue to make the 60 mile drive from Dartmouth, MA in the future?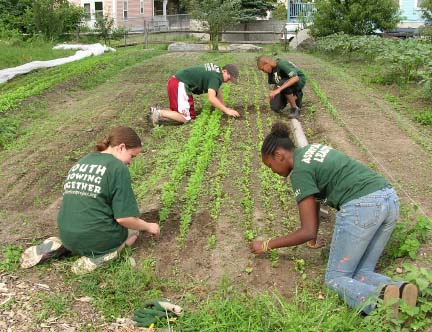 The Food Project: Teenagers from The Food Project working in the Dudley Triangle weed salad mix in 2006. Over 60 youth from Boston and its suburbs will grow food through the Food Project this summer.
Andy Pollock who owns the farm says he expects the farm will. For one, Pollock said he expects to be in business for many years to come based on the farm's sustainability. Pollock and the other farmers "treat the soil as a living organism," he said. Instead of using chemicals to treat their soil that are quick but not sustainable, Pollock said they aim to enrich the soil and make it better every year.
Second, Pollock has faith that the partnership with the Codman Square Health Center will sustain itself too, because the business model makes good sense and good cents, he said.
According to Pollock, a lot of times farmers choose not to drive their produce to urban areas because they may lose money if they cannot sell their inventory. But Silverbrook Farm is committed to making the trip to Dorchester as its CSA participants will be waiting to pick up their shares, and the farmer's market has great success just outside the doors of the health center, said Pollock.
According to Silverbrook's website, a CSA is a "collection of consumers that agree to purchase products from a local farm (or group of farms) throughout a season. Members purchase a 'share' of the farm and each week go to the farm to pick-up or, have the product delivered to their town."
The Food Project, a Boston-based non-profit organization with gardens and offices in the Dudley/Uphams Corner area, has a similar CSA program. Jen James, director of communications for the Food Project, said, "Our CSA is a little bit different...People can pick and choose. If they don't want the collard greens, they don't have to pick the collard greens," she said.
Last year, James said the Food Project also assembled 100 raised bed gardens for people in Dorchester, Roxbury, Jamaica Plain, Roslindale, and beyond. This year, they assembled 130, with many on the waiting list. For those who could not wait, James said, "We told them the instructions for building their own raised bed garden are online...We were willingly giving people that information."
Ann M. Walsh started a raised bed garden with the Food Project in her yard last year. Walsh said she has been involving her daughters, Madeleine, 5, and Clare, 3, in the gardening project.
"We love it," said Walsh, "I love that my daughters will grow up in an urban setting and know how to garden, and that they're learning how from Boston teenagers." The high school internship, in which student interns learn to teach gardening techniques, is a major component of the Food Project's program.
As interest for the raised bed garden grows every year, James said she can only expect the program to grow and expand its reach throughout the Greater Boston area.
Both Silverbrook Farm and the Food Project also host farmer's markets in Dorchester that the organizations say have been successful.
"I have to brag," says Pollock of the partnership between the farm and the health center. Pollock recently attended a conference in Torino, Italy where he realized, "No one has created a system like the one we have in Dorchester," he said.
"At the health center, you have doctors and nurses telling their patients to eat healthy, and then they're walking the walk. They go out the doors of the health center and can buy healthy foods," said Pollock.
Pollock noted McDonald's and Kentucky Fried Chicken are both within walking distance of the health center. But on Thursdays, so, too, is the farmer's market.
"We try to price things for Dorchester in a manner that is affordable. What I hear from the people of Dorchester is that the prices are a little bit better than supermarket. The food is fresher and you know where it's coming from," he said.
If the Silverbrook/Codman Square program is indeed unlike any other in the world, can this world-class farm/health center cooperative sustain itself through 2050 and beyond?
Melissa Curran participated in the Codman Square CSA in the past. "We enjoyed getting the chance to try many new fruits and vegetables throughout the season. The food was always delicious," said Curran. She said that in order for the CSA program to sustain itself, though, "I feel that they'd be able to get many more families interested if their hours were more accessible to working families. They close at 6 p.m., but we don't get home until 6 p.m. That is the main reason we didn't participate this year. Though just participating for that one year expanded our horizons, and we have a more diverse diet than we did prior to last year," she said.
Despite any limitations, Pollock is optimistic. "All I can see it changing is for the better," he said.
Recently, Silverbrook Farm invited a group of Dorchester youth to take a tour of the farm, to enjoy a potluck dinner sponsored by a local Quaker Meeting in Dartmouth, and to stay for an overnight." "It was just delightful," said Pollock. "Folks from the [Quaker] Meeting were connecting with kids from Dorchester, and are going to facilitate keeping in touch.
"That to me talks a lot about community and a connection that is not going to happen at Shaw's [Supermarket]," said Pollock.
James said she sees the skills learned by participants in the Food Project as one of the most sustainable things the organization can carry into the future. "We love it when our alums come back to work for us," she said, referring to the interns that return as full-time staff members later in life. "Currently we have 4 of 31 full-time staff who were teens with us. The head farmer used to work for us [as a teen]. We are fortunate to have people come back and shape the food production...Our reach is beyond farming," she said, "It's a testament to the fact that our reach is universal."