By by Jill S. Gross, Special to the Reporter
December 10, 2009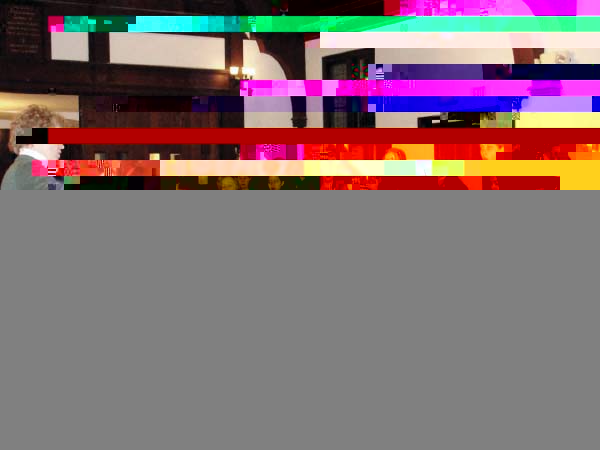 Jane Money, artistic director for Boston City Singers, leads the group's Concert Chorus in a rehearsal for its annual holiday concert Saturday. Photo by Jill S. Gross.
Members of the Boston City Singers stomped, clapped, and sang one selection for their upcoming holiday concert again and again last weekend. And, as they worked to ensure that their timing and rhythm were exactly right, they had the perfect teacher – the song's composer, the award- winning film and concert composer Kareem Roustom.
This event, which will be presented on Saturday at 7:30 p.m. at the Parish of All Saints in Peabody Square, is only the latest of several unique experiences for the Dorchester-based group of talented youths, some of whom have met musical luminaries, sung for President Obama, and traveled the world to perform.
The chorus will sing Roustom's piece, "The Song of Zaytoon Trees – O'Live," on Saturday night. The Winter Stars concert will feature a broad selection of seasonal music, from the ancient ballad "Cherry Tree Carol" to "Santa Claus is Coming to Town." Percussionist Kimani Lumsden, who teaches drumming at Young Achievers Pilot School in Mattapan, will also perform.
This year, many songs focus on peace, a message the group's artistic director, Jane Money, hopes the music can communicate in a neighborhood that gets too much attention for acts of violence.
"When you read the word Dorchester, it is rarely associated with something wonderful," said Money, who noted the group has sometimes had trouble attracting board members because of what they see as the neighborhood's reputation. "It is a very sad perception. There are many wonderful things that happen in Dorchester, and Boston City Singers is living proof of that."
The group was organized in 1995 as part of Newton's Youth Pro Musica in an effort to bring music to the children of Dorchester, said Florence Rawls, chair of the Boston City Singers board. At the time, there were 20 students. In 2003, the group transitioned to its own nonprofit, and now trains 300 singers, ages 5 to 18, from Boston and surrounding towns.
"We do still have an under-served community in terms of the arts," Rawls said. Boston City Singers offers seven training programs, including groups in Dorchester, South Boston, and Jamaica Plain. Rawls said the vast majority of students receive scholarships to participate.
The program does more than help students work on pitch, tempo, and performing. It teaches students how to work as a team and be friendly to everyone. And there is a youth development program that helps students complete college applications and other tasks to help them on the road to higher education.
"We teach them life skills," Rawls said. "It is really a very remarkable organization."
Money said that the level of commitment requires the program to teach students how to prioritize and manage their time so they can fit in practices with schoolwork. And performing and traveling, including staying with host families on some trips, requires fine manners and presentation skills. "We need to work with them to develop their hearts to live in a world of differences, to be accomplished human beings," she said.
Members of the Concert Chorus have traveled extensively, including recent performances and sightseeing trips to Australia, New Zealand, and Newfoundland, Canada. Money said they hope to go to South Africa in a few years. Prior to traveling, the group spends a great deal of time discussing the history and culture of their host countries. Students also do a related service project, she said.
For 14-year-old Daniel Hines, the travel experiences, as well as the opportunities to meet professional musicians and make new friends have been the highlights of her participation in the group over the last five years. "I love it," Hines said during a break from last Saturday's rehearsal. "I've made many friends. And I'm a more confident singer and musician."
Liz Godding, 17, gushed about the trip to Australia and New Zealand two years ago. "It was just a huge thing in my life," she said. "I got to see a lot of different things in a new light."
But for Godding, the best part of being in the group is the feeling she gets when she and her fellow singers have aced a song in a performance. "The opportunities we get from coming and working so hard are definitely worth the effort and time," Godding said.