By
Staff
November 11, 2009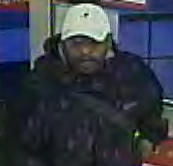 Suspect.The FBI has released a surveillance photo of a man wanted for holding up the Sovereign Bank branch at 780 Gallivan Blvd. around 4:25 p.m. on Nov. 5.
The FBI describes him as a black male, medium build, about 5'7" and in his mid-30s. He carried a dark, possibly brown, messenger bag and fled on foot.
According to Boston Police, he showed a note but not a gun.
Anybody with information can contact the FBI Bank Robbery Task Force at (617) 223-6185.