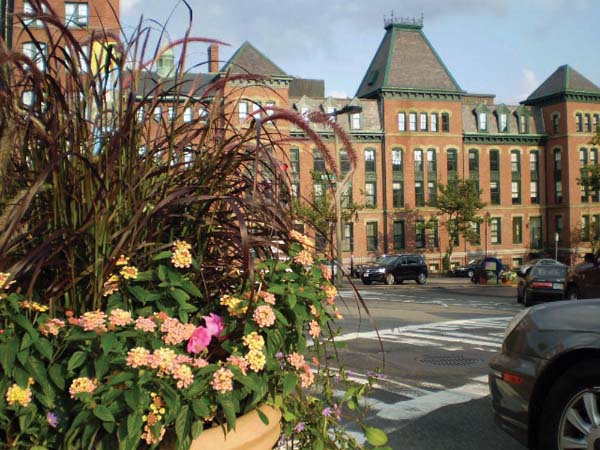 One of the flower planters installed by the Lower Mills Merchants Association sits at the corner of Washington Street and Dorchester Avenue.
Merchants and business owners in Lower Mills are combining their efforts to bring improvements and renewal to one of the city's quietest corners. With a new upscale restaurant set to open soon to serve a changing clientele, the members of the Lower Mills Merchants Association are taking on greater responsibility as caretakers of a neighborhood they feel deeply connected to.
Part of the association's mission is to maintain Lower Mills's visual appeal. Large flower planters were recently installed along Dorchester Ave. and Adams . and Washington Streets in an effort to beautify the village. The flower arrangements in the planters were put together by Richard O'Mara of Cedar Grove Gardens, a full service floral shop located up Adams St., just north of the Lower Mills area.
Several merchants have purchased planters to place in front of their businesses, or on traffic islands at intersections. They can be seen in front of Vargas & Vargas Insurance, Meetinghouse bank, Pat's Pizza, and other locations around the neighborhood. Volunteers have signed up to maintain and water the flowers.
After a boom in housing and 21st-century amenities transformed the area in recent years, Lower Mills has lacked a key component that many in the neighborhood say was needed – a destination restaurant to accentuate the area's new look and friendly feel.
"We want to be the anchor of the neighborhood," said Francis Pezzolanella, general manager of Ledge Kitchen and Drinks, a new restaurant scheduled to open next weekend. Describing the environment and cuisine as "upscale American," Pezzolanella says he hopes that Ledge will become the go-to spot in Lower Mills.
Located in the former Donovan's Village Tavern, the eatery boasts an expansive patio seating area in the building's rear. Pezzolanella says that there will be 16 beers on draught, as well as 24 wines by the glass and a "ridiculous menu." This, all at "the best prices you'll find in the city," give Ledge the potential to be Dorchester's next hottest restaurant, he says.
According to the Syracuse native, Dorchester was the only location considered by Ledge co-owners Barry and Greg Feeney, proprietors of Feeney Brothers Excavation in Savin Hill. Connections like this, which bond businesses and  communities, are part of what makes a neighborhood like Lower Mills special, they say.
Even area business leaders who have not traditionally taken part in the greater community are getting in on the act. Joe Dempsey, manager of the Lower Mills CVS Pharmacy, recently joined the association and increased his store's involvement in the upkeep of the neighborhood.
Another addition to the business district landscape is Metamorphosis of Lower Mills – a former Lil Peach convenience store that has been purchased by a local business owner and converted into a neighborhood shop with a selection of beer and wine.
Jeff Chatlos, co-founder and co-owner of Flatblack Coffee Company on Washington St., said that his neighbors in the Lower Mills business community "have been awesome" since he and his partners opened their Washington St. coffee shop seven years ago. "Everyone who had been here before us is fantastic," said Chatlos, who credits Cedar Grove Gardens' O'Mara's efforts as a driving force behind the beautification project.
Local business leaders "help this community be a community," said Chatlos.