By Filipe Miranda, Special to the Reporter
June 24, 2009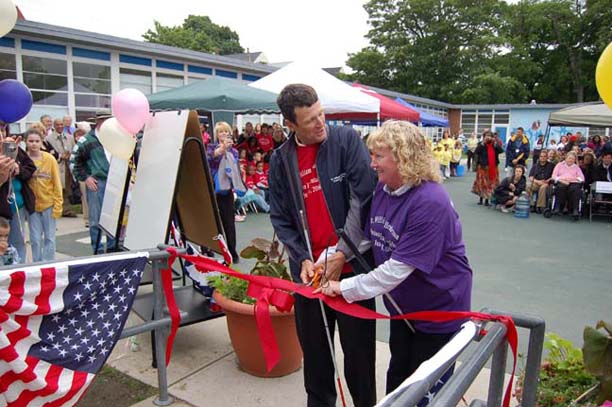 Henderson School: William Henderson, the longtime principal of the Patrick O'Hearn School, cuts a ribbon with successor Patricia Lampron during a June 23, 2009 ceremony in which city leaders announced that the school has been re-named in his honor. Photo by Filipe Miranda
The light rain that continues to keep Boston's summer at a distance failed to deter Mayor Tom Menino and over 250 students, teachers, and community members from coming together this Tuesday on the courtyard of Patrick O'Hearn Elementary School to honor Dr. William Henderson. Seemingly unencumbered by his own blindness, the 59 year-old principal has been a pioneer for the inclusion of students with disabilities into traditional classrooms. Over the past 20 years, Henderson has transformed the O'Hearn into a national model for a more inclusive education system.
For more on the legacy of Henderson at the school, see this April 30, 2009 story by Adam Pieniezak.
Now, on the eve of his retirement, his school and community have honored him with a strong gesture. Calling him "a remarkable man" who has made "an indelible impact" in the lives of Boston's students, the Mayor proclaimed June 23rd William Henderson day in the city of Boston and renamed the school after him.
The tribute, which had been in the works since September, was kept secret from Henderson, even as the School Committee conducted public hearings and voted on the name change. "I had an inkling," Henderson admits, though he wasn't fully aware of the scope of the event.
The excitement about participating in a secret of this dimension, however well kept, was palpable amongst the school's students. Donned in brand new William W. Henderson Inclusion Elementary School t-shirts, the students conducted most of the ceremony, introducing speakers and providing dance, music, as well as a narration of Henderson's inspiring life story. The school's philosophy of inclusion was evident as students with a wide range of abilities presented and performed side by side.
City Councillor Maureen Feeney joined the Mayor and a student in unveiling the new welcome sign to be placed at the front of the school. Also unveiled was the plaque for the newly named Patrick O'Hearn foyer, commemorating the banker and Boston's building commissioner in whose honor the school had hitherto been named.
At the end of the ceremony, Henderson said that he was "honored and humbled" before handing the "baton of leadership," his white walking stick, to Patricia Lampron, his successor. Together, they then cut the red ribbon, officially opening a new chapter in a school that has already touched so many lives.