Mary Casey Forry, Jan 7 1944- Dec. 17, 2004

Daughter of Emigrants Gave Life to City Newspaper Group
By Jim O'Sullivan
Reporter Staff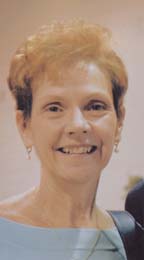 Mary Casey ForryMary Casey Forry, co-founder and president of the Boston Neighborhood News company, died on Friday, Dec. 17, 2004 at her Richmond Street home in Lower Mills, attended to the last by her tight-knit family, a source of great comfort for her during her lengthy final illness. She was 60.
"Mary" to everyone, she fought a fierce, and often good-humored, 22-month battle with pancreatic cancer. Diagnosed in early 2003, she lived to hold her first grandchild, John Patrick Forry, and to see him take his first steps. As they mourned her death, relatives and friends recalled a graceful woman who stared down her diagnosis with a twinkling eye. Her primary care physician, Doctor Lawrence Ronan, said Mary's personality exercised medicinal powers over the illness.
"She was a very special woman who faced her illness with courage throughout, and never stopped caring and giving care to others," Ronan said, calling the comparatively lengthy survival after diagnosis "a testament to her spirit and her drive and her energy. There are people who in the midst of their illness embrace the world around them, and that was Mary. Life meant something to her, and she wanted to live it as fully as possible," he said.
Mary brought that love of life, its ups and downs, to the keyboard from which sprung her "Urban Gardener" columns for the Reporter, essays that offered wry and widely-read insight into the vicissitudes of family home life in Dorchester.
Mary Casey was born in Jamaica Plain and grew up in Belmont, the third daughter of Martin and Mary Kate Casey, who immigrated to the United States from Ireland in the 1930s. She attended Saint Luke's Grammar School in Belmont, and would walk younger brother Jim home along Belmont Street, stopping at various candy stores along the way, he remembered. Her brother recalled "vigorous dodgeball games" in the family's driveway, with errant throws frequently bouncing into a neighbor's finely-horticultured yard. "Mame would be the only one with the fortitude to go over there and get it," he said.
While attending high school at Rosary Academy, Mary saw the 1958 movie "Auntie Mame," about an orphan gone to live with his charismatic aunt, played by Rosalind Russell and quickly fell in love with the glamor. "She memorized every line in that movie," her brother said, "and decided that she would no longer be Mary, she would just be Mame."
She even took to smoking cigarettes out of a cigarette-holder encrusted with rhinestones. "I think Mame was the kind of person who imagined who she wanted to be, and became it, and enjoyed it," said Jim.
Enamored of the Hollywood flair, she went to work in Boston for the Sack theatres operation and there met Edward Forry, her future husband. They were married in 1969 and set up housekeeping on Codman Hill before moving to their Richmond Street home in 1977.
There, they raised their two children and, in 1973, conceived Boston Neighborhood News, Inc., which today comprises four newspapers and an online news service. The company's first newspaper venture, the Dorchester Reporter, was launched in 1983 as a monthly publication covering Dorchester and in fairly short order grew into a weekly. The Forrys later added the Boston Irish Reporter, the Haitian Reporter, and the Mattapan Reporter to their community newspaper group.
From the beginning, and from soup to nuts, Mary was the institutional matriarch who used a limpid writing style, a facile business mind, and a humorous office presence to make things hum in good times and bad. Her columns frequently were read on-air by local radio personalities, and her Thanksgiving installment in 1986 has been reprinted and appreciated widely since.
Mary introduced a characteristically droll column as a wife-to-husband memorandum: "Let me begin by saying that we, as you know, have been husband and wife for some 17 years now, and that I love you and the children more with each passing day, and consider each of you wonderful individuals in your own right. That said, I hope you will not take offense by my saying that I would rather spend six weeks on a slow boat to Outer Mongolia than another week on vacation with the three of you."
In the foreword to "The Lives and Times of The Urban Gardener," a 1988 self-published sampling of the series, Ed Forry remembered the Reporter's beginnings, and his wife's leading role:
"Mary's [job] was to type the stories, to make the material ready for the paste-up artists, to keep track of the ad orders, to hand-type each bill and to put everything in the mail. Also she was to continue cooking, cleaning, getting the kids to school, and all the other things that go into 'keeping the house.' The newspaper continued, offering the 'news and values from around the neighborhood.' For her part, Mary authored pieces about snakes, the fall harvest, her Christmas plans: in short, brief essays about the types of occurrences that happen in the daily lives of most families."
In 2000, the Boston chapter of the Irish Chamber of Commerce in the USA honored Mary with the "Always the Irish Heart" award for her civic-minded work.
In addition to her husband, Mary leaves her daughter Maureen, her loving caretaker over the last several months, her son, Reporter Managing Editor William, 31, her daughter-in-law, Linda Dorcena Forry, and Linda and Bill's 13-month old son, John Patrick. She also leaves her brother, Jim, of Sudbury, her sister Margaret Casey, of Fredricksburg, Virginia, and her sister Kathleen Dawe, of Orlando, Florida.
On her death, Doctor Ronan, her physician, said the combination of a strong will, a caring family, and medical care, particularly from the oncologist Doctor David Ryan of Mass General Hospital helped prolong Mary's life at a quality above what many other pancreatic cancer patients enjoy.
At her funeral on a chill Tuesday morning at Saint Gregory Church in Dorchester, her eulogists remembered a loving and warm woman, high-spirited, and eager to "puncture pomposity," as her dear friend William M. Bulger said. The former president of the state Senate and University of Massachusetts chuckled at her knack for needling those she thought needed be moved down a peg - "people like me," he said.
In lieu of flowers, her family asked that donations be sent to The Thomas S. Durant MD Fellowship in Refugee Medicine, Massachusetts General Hospital, 55 Fruit St, Bartlett 917, Boston, MA 02114. The fellowship, named for a Dorchester doctor who treated patients in crisis situations across the globe, sponsors health care workers to provide care to refugees and natural disaster victim
This "snippet" I found on the internet- It first appeared in the BIR in 1998 It is Mary Casey Forry's tale of her aunt Maggie Ellen Subject: "My Special Aunt (Maggie Ellen KANE) from Mohill, Co. Leitrim" - by Mary Casey FORRY, Boston, MA.
SNIPPET: Excerpts from a piece written in 1998 by Mary Casey FORRY, President Boston Irish Reporter, subsequently published in the 2004 issue of the yearly "Leitrim Guardian" magazine along with an old photo of Mary Ellen KANE and a Delia GRAY, Bohey.
To say that my aunt, Maggie Ellen KANE, was the last of her breed is probably something of an overstatement; but when she passed away just before Thanksgiving, not only was she the last of my mother's siblings to die, she was also something of a representation to me of an Ireland that is fast disappearing. Even though she was almost 90, Maggie Ellen was still just an Irish girl. She grew up on a family farm outside of Mohill, Co. Leitrim, and except for short periods when she visited us in America, she always stayed there. She reflected to me the innocence and modesty of a young woman to her last days ... She lived a very simple farm life, taking care of my grandfather, Pat (the Pope) KANE, and her brother, Frank. She moved once, in protest, and got herself a small place in Mohill town, and to all reports she was very happy there for some months. She moved out because my grandfather had refused to give her the dowry which had been promised to her upon her marriage.... but as I came to understand could be given anyway if the young woman remained single after a certain number of years. She eventually went back home after intense negotiations between my mother, Mary Kate, and grandfather worked in her favor ... When she wasn't caring for my grandfather and uncle, she was working in the rather grand home of an English couple who owned an estate not far from them.
Her life revolved around her neighbors on the Bohey Road. They visited one another on weekends and provided their own entertainment. My grandfather was known to sing at the drop of a hat, as was my uncle. I don't know what Maggie Ellen did other than keeping the tea hot. She was very shy and I don't think she ever did much in the way of performing. She probably took care of setting up for the regular Saturday mass that the local priest would come and say, at various locations along the road.
My mother, Mary Kate, and Maggie Ellen were as different as night and day. Mary Kate came to the States at about 15 years old, and immediately went into 'service.' She grew (indeed, she had no choice but to grow) into a smart, independent, no-nonsense woman.... There were wonderful tirades between these two Irish sisters over who had actually had it harder - the one who stayed home or the one who became 'the Yank' Thinking back on it, I think they should have split the difference.
On her visits home, my mother would spend one night on the farm and then spring to the nearest B&B for a warm bath and other comforts unfamiliar to her sister. Mum couldn't stand how Maggie Ellen kept house - cats, dogs, numerous chickens, mice.... It was more than a poor Yank could stand. But during the day, the two of them would walk where they played as kids and relive the good old days.
Mary Kate talked Maggie Ellen into coming to America for a first visit back in the '70s and immediately lived to regret it. They fought about everything: clothing, food, brand of tea and tub baths. You name it. Mary Kate would insist on her doing certain things like getting her hair cut; Maggie Ellen would insist that, if she cut her hair she would certainly be dead from cold within 24 hours ... Even though Maggie Ellen weighed maybe 90 lbs, she wore a size 16-18 dress. The reason: Maggie Ellen would dress in layers ...
Although I was never in on the ritual, she would begin by wrapping cotton flannel around her back and front, then put on her warm woollen underwear This would be followed by a sweater and long drawers, then whatever dress she would decide to wear that day, followed by 2-3 more sweaters. On her legs would be long woolen stockings, knee socks and God only knows what else. She would then proceed to the warmest spot in the house and complain how cold she was ... Maggie Ellen used to say that cold had gotten into her at a young age and never left. My mother would roll her eyes ....
After Maggie Ellen went back home, there were many letters and the occasional phone call, which was difficult because she had to call us from the post office in town. After 1985 when Mary Kate died in the States, Maggie Ellen and Frank went on at the farm for six more years. They both went into a nursing home in Mohill in the early '90s, but Maggie Ellen insisted that she was going back to the Bohey Road where she belonged.... After my uncle Frank died, she went downhill. Her hearing and eyesight were bad and it became extremely difficult to communicate with her. But her nurses would keep us updated on how she was doing. On one of my last conversations with them, the young nurse who cared for her told me my aunt had decided it was time to die, which she did very peacefully. She was buried in Farnaught Cemetery next to her mother, Katherine, her father, Pat, sister Bridget and brother Frank and all the other KANE ancestors going back to Wild Will KANE. She led a fine, simple life, and we loved her dearly.
(I only hope my mother was prepared for her visit this time!).