By Sue Asci, Special to the Reporter
February 10, 2010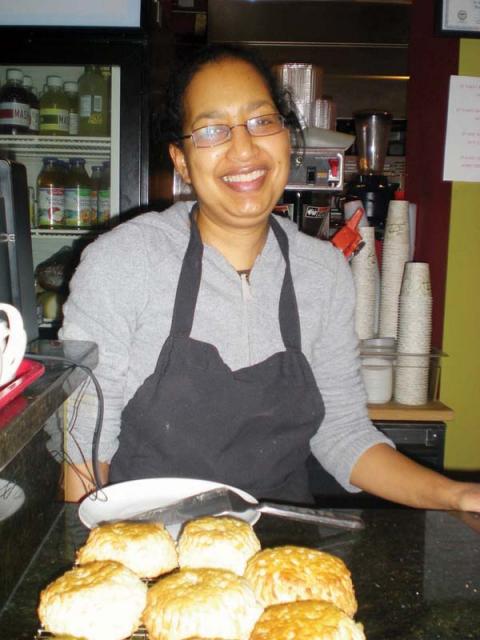 Dot2Dot: Karen Henry Garrett with some of her homemade bread at Dot2Dot Cafe. Photo by Sue Asci
Whether it's serving up fresh homemade meals and pastries from scratch or showcasing the creativity of local artists, Karen Henry Garrett wants to help connect the Dorchester community. In her 1739 Dorchester Avenue restaurant, Dot2Dot, Garrett believes in connecting Dot residents in a variety of ways.
Since she opened the restaurant in May 2008, Garrett has introduced a blend of European and American cuisine that is attracting a growing number of patrons. She has also hosted numerous events, including evenings with local Dorchester artists and events to benefit charities.
"I wanted to connect the Dots of the community. I wanted it to be a community space," she said.
Dot2Dot, which is open for breakfast and lunch every day except for Monday, is also open for dinner on Thursdays and Fridays. The menu offers healthy foods, homemade breads and pastries, and combines European traditions with American fare. The menu changes weekly and Garrett strives always to offer something different.
The robust breakfast or "brunch" menu includes many styles of eggs, pancakes, French toast and fruit combinations. There is also a special vegan section. Lunch includes sandwiches and quiche. The dinner menu also varies and may include a fish selection such as salmon with turnip and bacon choucrute or grilled steak with garlic mashed potatoes or a roasted red pepper and saffron risotto.
"I want to keep it healthy and we don't do any deep frying. It's not that everything has to be organic, but it's healthy just by the way we cook," said Garrett. "I still use cream or butter, but there is no reason to deep-fry everything," she said. "We make our own bread and pastries from scratch." They include a variety of homemade scones and breads such a focaccia brand with sage or ginger scones. She sells some breads by the loaf. Dessert offerings vary and may include bread pudding, chocolate profiteroles, or strawberry pavlova.
With a variety of vegetarian choices on all of the menus, the restaurant is also building a vegan niche. Many regular customers are returning for something different such as the phoullori, an Indian recipe that Garrett says she got from her mother. It uses chickpea flour formed into a 'puff' that is served with a sauce. Many of the bread recipes also came from her mother, she said.
Garrett also has a catering business, Dot2Dot Catering, that provides custom catering for events and gatherings of all sizes. "I tailor the menu to the client," she said. But she also wants the restaurant to be more than a place to find new and interesting foods.
The surroundings reflect a relationship with the community. Since the restaurant opened, Garrett has displayed artwork created by Dorchester artists that rotate every month. She has also hosted evening events with Dorchester artists who display and talk about their work. Over the entry door is a mosaic project that was created by a dozen young art students from DotArt.
The restaurant has also hosted charity events from the beginning. And it recently received an entertainment license and plans to host live music as part of a Sunday brunch. The first session was a jazz group last Sunday from noon to 2 p.m. An open-mike night for local talent is being planned for Feb. 27, Garrett said.
Trained as a chef at the renowned Cordon Bleu, Garrett came to Dorchester several years ago after beginning her culinary career in London. A graduate of Kings College with a degree in English, she worked at several administrative jobs at a number of university and educational programs before deciding to make a career change, and her heart led her to a cooking school, the Tante Marie School of Cooking in London, which is part of the Cordon Bleu. She took an intense one-year course there and graduated in 2000.
Before that, though, she had learned to cook at a young age from her mother, Jennifer, a Trinidadian who now lives in London. "It's a West Indian tradition that you teach your kids to cook early," said Garrett. "As a child you know how to cook rice, cut up a chicken, or how to deal with fish," she said. "You realize later that you absorbed a lot of that education at a young age." Over the years she had often cooked for large gatherings for enjoyment and received accolades for her work.
At the end of her training, Garrett not only understood the intricacies of various cooking processes, but she also had learned how to handle all types of foods, including game, and how to create the most appealing presentation.
Her first job was working as the personal head chef for a lord and lady at a large estate in Cullen, Scotland, for a summer. She lived in a cottage near the sea on the estate and each day a chauffeur would come by the cottage and take her up the main house so she could make breakfast, lunch, and dinner for the couple. Having the culinary education helped prepare her for any of their requests.
"It was my first job and they presented me with wild game, a skinned hare," she said. "But I knew that the hare needed to be cooked with wine for a long time, in a process called 'jugging.' That softens up the meat." While she reviewed the menu with the lady of the manor each week, Garrett had full independence in the kitchen as its manager, she said.
Following that summer, she took on several more private chef positions for wealthy people. She sometimes accompanied them during trips and was able to travel around Scotland and England. Then she decided to start her own catering business in London and she called it Henrys Garrett Catering.
She soon was bidding on and receiving a lot of work as a caterer at the British Academy in central London. The work ranged from lunches and conferences to weddings and other large functions.
About four-and-half years ago, she came to Boston with her husband Richard Garrett and their young son Findlay. Richard had gotten a job in educational consulting in Boston, which was the catalyst for their move.
After getting settled, Garrett began looking around for a restaurant site and in late 2007, she leased the building at 1739 Dot Ave., which used to be home to a hair salon and physical therapist, and began the renovations.
At the restaurant, she does most of the cooking. She also hired chef Nick Lomba, who was trained at the Culinary Institute of America, to join the staff. They complement each other, particularly working together on the dinner menu, she said.
In England, there is a tradition of open markets and the push is on for people to eat healthier and buy fresh foods, Garrett said, with similar trends developing in the U.S. Locally, in Dorchester, Garrett participated last year in the farmer's market experience, a growing trend toward fresh and healthy eating that could be the fuel to help Dot2Dot continue to thrive.
Garrett is hoping that with her evolving menu of healthy, fresh choices, and community connections, the restaurant will become a first choice for dining for a growing number of local residents.
Dot2Dot is open from 8 a.m. to 2 p.m. Tuesdays through Fridays, 9 a.m. to 3 p.m. on Saturdays and Sundays, and 6 p.m. to 9:30 p.m. for dinner on Thursdays and Fridays.