By Ann Leahy McGough, Special to the Reporter
September 8, 2010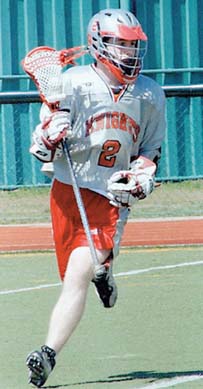 Conor Boyle: A standout for Catholic Memorial, Dot native to join collegiate ranks.The Dorchester Youth Lacrosse program is in its twelfth year and is going stronger than ever thanks to founder Mike Devlin. After graduating from Salem State College, the Savin Hill native went to work for the City of Boston's Parks and Recreation Department. He saw a fledgling lacrosse program in Charlestown and thought it would be something that would interest kids in his own neighborhood.
"I saw it starting in other parts of the city and wanted to start a program here. At first we did not have that many kids, but now we are up to 100 boys and 50 girls in the program."
Devlin was not surprised that lacrosse appealed to the kids in Dorchester.
"It is a very fast-paced sport," Devlin notes. "It is a lot like hockey, which is very popular here. It is a very physical game; it takes a lot of hand-eye coordination."
Devlin adds that lacrosse is the fastest growing sport in the United Sates and that there is an increasing amount of scholarship opportunities, especially for girls who play the sport.
Dorchester Lacrosse, which is geared towards players in third grade through high school, starts with indoor practices in March.
"We start holding practices at places like the Leahy-Holloran Community Center, just to give the returning players a chance to get the rust off and the new players a chance to see if they like the sport. In mid-April we take the practices outside and start playing games."
Devlin continues, "The kids are awesome. They have a blast on the field. There is no pressure. Score-boards are optional. Our league has no standings, but the kids stay competitive. They have fun, but they don't like to lose!"
The program is valued by the players' parents, as well. Tom Leahy's two daughters, Kaylen, age 10 and Erin, age 8 both play for Dorchester Youth Lacrosse.
"Kaylen has been playing since she was in K-2. The kids don't usually start until third grade, but they didn't have many girls back then so they let her start," Leahy says. "Kaylen, who will be in the fifth grade in the fall, has continued to play and she loves it and she has become quite good. Erin plays too and she really enjoys it, as well."
Leahy is very grateful for the experiences that the program has given his daughters.
"I really like the program. The kids practice twice a week and play their games, even if it is raining. Both girls will be returning to the program."
Joanne Sweeney has three children in the program, Andrew, age 9, Anna age 13 and 15 year-old Kevin, who was one of the first players in the league. She has nothing but accolades for the program and Devlin.
"He does so much for the kids and he doesn't even have children of his own. Kevin started when he was only five and he is still playing."
This summer Devlin started a Wednesday and Friday night Lacrosse program at Neponset's Garvey Park for high school age players. Sweeney says of this summertime endeavor, "Mike really got it right when he started the night program. It keeps the teenagers active and it keeps them off the street corners. There are a plenty of organized activities for the younger kids, but not a lot for the high school kids. I always thought Dorchester Youth Hockey should do the same thing. Instead of having the older kids play early in the mornings on the weekends, they should play on Friday and Saturday nights to help keep them out of trouble."
Conor Boyle, 18, says it's been a great summer to play.
"There are 4 teams with 10-15 kids on each team. So every Wednesday and Friday night this summer there has been at least 40 kids playing lacrosse at Garvey Park. The more practice you get the better," Boyle says.
Conor started with Dorchester Youth Lacrosse when he was seven years old and went on to play the sport for Catholic Memorial in the Division II Catholic Conference League. In the fall he will be attending South Carolina's Coastal Carolina University where he plans to continue playing lacrosse.
"Having played in Dorchester definitely gave me a leg up when I went to play at CM," Boyle says. "Mike Devlin has done so much with the lacrosse program. I don't think many kids from around here would be into lacrosse if it wasn't for him. And now, there are so many kids who play." Boyle states that some of the added benefits of the program have been the friendships that he has made learning to be a leader.
Devlin says that the program he established is only as good as its volunteers.
"We have great people who coach and volunteer their time. We are always looking for more hands. You don't need to have played before to help."
The programs currents sponsors include Baby Cakes Bakery in Quincy, the Boston Police Athletic League and Thomas M. Finneran Charities and new sponsors are always welcome.
Registration for next year will begin around October 1st and online registration will be available. The fee for players is about $125. More information can be found by visiting dorchesteryouthlacrosse.org or calling 857-221-1646.