Two of them are third generation South Bostonians who have ties to City Hall and the State House. A third candidate once volunteered for UNICEF and an international service group that provided HIV/AIDS education to rural villages in Tanzania. A fourth is a recent transplant and local attorney. And a fifth is a Republican, hoping to repeat U.S. Sen. Scott Brown's electoral success in the area.
Voters in the Fourth Suffolk district, which includes South Boston and some areas of Dorchester like the Polish Triangle, Uphams Corner, and Harbor Point, had a chance to meet all five candidates vying to replace retiring state Rep. Brian Wallace (D-South Boston) at a forum this week.
But political insiders and observers from both inside and outside the district, when asked about the Democratic side of the race, say it's largely down to two of the four: Mark McGonagle, a Boston Public Health Commission youth worker who along with his family has ties to the Menino administration, and Nick Collins, a former aide to state Sen. Jack Hart (D-South Boston) who also worked Joseph Biden's unsuccessful presidential campaign in 2008. The other two candidates are newcomers Michael McGee and Jacob Bombard.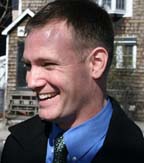 Mark McGonagleA South Boston native, McGonagle attended Gate of Heaven Grammar School and UMass-Boston, where he received a criminal justice degree. His wife Kathlin, grew up in the Harbor Point area of Dorchester. The two had a baby boy, Andrew, in June.
At 30 years old, he is the oldest of the candidates. (Jacob Bombard, a fellow Democratic candidate, is 23 years old, and the other candidates are in between the two in terms of age).
"I feel every corner of this district, all these areas deserve equal representation," McGonagle said at the forum, held in the cafeteria of South Boston's Condon Elementary School.
His family has deep connections to City Hall: His father Bill is the top official at the Boston Housing Authority. But his campaign maintains that McGonagle is independent-minded and that Mayor Tom Menino is not backing any particular candidate, letting his staffers work for whomever they like.
Rival campaigns dismiss that argument, pointing to Anthony Gilardi, who served as Mayor Thomas Menino's Boston liaison and worked in the Boston Redevelopment Authority. Gilardi is returning from Washington, D.C., where he currently works, to help McGonagle's campaign. There are further overlaps between his family, City Hall and McGonagle's camp, the others add.
McGonagle earned a key endorsement this week with the SEIU 1199 healthcare workers union, which will provide bodies to man the phone banks. He has also picked up endorsements from local pipe-fitters and electricians' unions.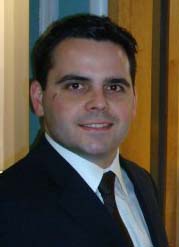 Nick CollinsBut Collins has racked up his own list of union endorsements and support from many of the unions that backed former City Councillor At-Large Michael Flaherty's 2009 mayoral bid, including the firefighters union Local 718 and IBEW Local 2222. His campaign manager is Dan Manning, a labor activist.
For their part, the district's elected officials are staying out of the race. Sen. Jack Hart, who is running for another term unopposed, says he's focused on his own re-election effort. Wallace, who has held the seat since 2003, is also staying out of it, saying he's focused on the Legislature's attempt to wrap up the legislative session on July 31. He left the door open to a potential endorsement of a candidate down the road.
Like McGonagle, Collins also attended Gate of Heaven School. He earned a degree in business management from Babson College. He has run the Boston Marathon to raise money for brain cancer research, and founded the South Boston Collegiate Baseball Clinic.

Michael McGeeBut a third candidate, McGee, has the potential to break through, watchers of the district say. As a newcomer to South Boston, he could grab the "new Southie" vote and eke out a win as Collins and McGonagle fight over the same base of voters – longtime district residents.
McGee attended Boston College High School and Trinity College in Connecticut. An attorney at Morrison Mahoney LLP, he worked for former City Councillor Flaherty's mayoral bid last year and coaches in the South Boston Youth Football program. McGee has been in the race since last fall, before Wallace announced his retirement, rubbing some longtime district politicos the wrong way.
At the Monday forum, McGee's pledge that he would "challenge political insiders" led to a verbal scuffle with Collins.
"Everybody here has worked for a campaign or politician," Collins shot back. "So that point is moot."
Jacob BombardThe fourth Democrat in the race is the youngest: Bombard was born at St. Margaret's Hospital in Dorchester in 1986. A graduate of the College of William and Mary, he has volunteered for UNICEF and studied abroad in Italy. He has also interned for Sen. Hart's office.
The Democratic primary is scheduled for Sept. 14. The winner will face Republican Patrick Brennan, a certified public accountant, in the Nov. 2 general election, though district observers expect the seat to stay in Democratic hands.
The chair of South Boston's Ward 6 Republican Committee, Brennan was born in Worcester, has lived in New Hampshire and attended Saint Joseph's College of Maine.
Patrick BrennanBrennan said he would push for smaller government and criticized Gov. Deval Patrick for not fulfilling a promise to put 1,000 cops on Bay State streets. The recession has led to the governor scaling back a whole host of promises he made while running for office in 2006, including property tax relief.
Brennan also criticized the state's public records law, labeling it "ineffective" and calling for more records to be placed online.
"We have no idea how some of our money is being spent," he said.
At the Condon School, all agreed on the need to stop busing students around the city, saying it would save the school system between $70 million and $80 million. And they urged a return to "neighborhood schools."
Because of their youth, the candidates were not around for the unrest in South Boston nearly forty years ago over the court mandate on busing.
And all supported increasing funding for programs to help cope with substance abuse, a major problem in the neighborhood, and criticized the Boston Redevelopment Authority over its move –without enough community input – to revamp the Old Colony housing development with federal stimulus funds.
The Monday night forum's moderator, Brian Mahoney, said all five candidates fared well. "They all seemed to have a grasp of the issues," he said. "They all gave fairly meaty answers."
Over 200 people packed the Condon School auditorium on a steamy evening, fanning themselves with flyers passed out by the candidates' campaigns.
The forum was sponsored by a number of local organizations, including the Andrew Square Civic Association, City Point Neighborhood Association, Cityside Neighborhood Association, Dorchester Heights Association, Lower End Political Action Committee, McCormack Civic Association and the West Broadway Neighborhood Association.
Organizers hope to have two more before the Democratic primary.