By Gintautas Dumcius, News Editor
October 29, 2010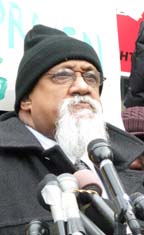 Councillor Chuck TurnerA federal jury on Friday convicted City Councillor Chuck Turner of accepting a $1,000 bribe and lying to FBI agents about it.
The unanimous verdict came after days of testimony and a day and a half of jury deliberation. The controversial 70-year-old community activist is scheduled to be sentenced on Jan. 25, 2011, and faces up to a maximum of 35 years in prison.
LATEST: Turner wants Tito Jackson to replace him; council hearing on his removal is Dec. 1
PLUS: Turner defiant at rally in Dudley Square (The Lit Drop)
"The reason that Mr. Turner finds himself today a convicted felon is primarily because of choices that he made of his own free will," said U.S. Attorney Carmen Ortiz. "And those were a choice to accept money he shouldn't have, to keep it, and then to lie about it. And that's what this case is all about, plain and simple: A public official who betrayed the people he was elected to serve."
Turner supporters are holding a 3 p.m. rally outside Turner's district office in Roxbury on Saturday.
The City Council is expected to soon schedule a hearing on what actions to take. A two-thirds vote of the council is needed for any action ranging from censuring him to removing him from his $87,000-a-year position, which he has held since 2000. The hearing is likely to occur before the end of the year.
Turner's corruption case was part of an extensive investigation that focused on and ensared former state Sen. Dianne Wilkerson, a Roxbury Democrat who was charged with accepting $23,500 in bribes. Wilkerson has pleaded guilty to charges and is awaiting sentencing.
John McNeil, the prosecutor in charge of the case, said, "Mr. Turner came along as a result of Ms. Wilkerson sending him [an e-mail]. We decided, because of some information we had, to offer him an opportunity to commit a crime, and as I argued yesterday to the jury, he grabbed that opportunity."
Outside the courthouse Friday, Turner remained defiant and maintained his innocence. "I'm not the first person who's innocent who's going to be sent to jail," he said.
City Councillor At-Large Felix Arroyo, who once worked as an aide in Turner's office, said in a statement that Turner was convicted of "something that is out of character with the person I know."
"My heart goes out to him and his family," he added.
Mayor Thomas Menino said it was "a very sad and unfortunate day for the city of Boston."
"Councilor Turner has represented the people of his district well for over a decade," he said. "I remain shocked at the actions Councilor Turner has been found guilty of today and will continue to work hard promoting a spirit of public trust and confidence in our elected officials and government agencies."
City Council President Michael Ross called Turner a "tireless worker for the residents of his district."
"This is an extremely serious matter," he said in a statement. "When I was elected Council President, we drafted long-overdue rules that govern the conduct of Councilors. These rules were approved unanimously by the body—including Councilor Turner. Our rules require us to take action if any member is convicted of a felony."
Asked about the potential of getting expelled from the council, Turner again said he was innocent, and added, "If they want to remove me, that's their right."
Most city councillors were not immediately available for comment after the verdict. Reporters, who usually are not restricted from moving around the council offices on fifth floor, had to check in with a receptionist and cool their heels in the City Council's main lobby.
Asked if he still thought he should've taken the witness stand, Turner said, "Oh, definitely. Definitely. Because if I hadn't done that y'all would be asking me right now well what really happened Chuck? I wanted to tell that jury, I wanted to tell it to the prosecutor, give the prosecutor a chance to ask the questions. So I did it the way I thought it needed to be done."
Wilson, who after some remarks slipped away from the crowd of reporters interviewing Turner on the verdict, had disagreed with Turner adamantly wanting to take the stand.
Wilson argued there was little reason to send Turner, a longtime social activist and a member of the Green-Rainbow Party, to jail. "Not unless the prisons, they want organizers in the prison," Wilson said. "If they want to keep the prisons okay, I'd keep him home."
If the City Council votes to expel Turner, a special election will be necessary. Several names are already in circulation, including Tito Jackson, who unsuccessfully ran in the 2009 derby for two open City Council At-Large seats; Monica Dean, a former chief of staff to former state Sen. Wilkerson; and perennial candidate Althea Garrison, who has frequently run for Turner's seat as well as those of others.
Turner's district includes Roxbury, Lower Roxbury, and parts of the Fenway, South End, and Dorchester.