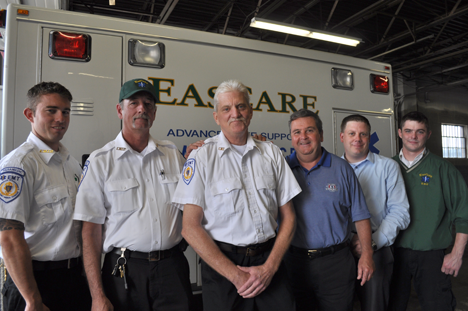 Eascare rescuers: Peter Todd, (center) an EMT dispatcher at Eascare Ambulance in Neponset is surrounded by some of the co-workers who saved his life in the moments following a severe heart attack last fall. Pictured left to right are George Stuart, Mark Donovan, Todd, CEO George Gilpin, Ryan Whitcomb and Dave Cavanagh.
Peter Todd has spent a career helping stricken people get the emergency medical care they need — and fast. Turns out, Peter's career choice led to his own salvation.
The lifelong Dorchester resident works as an EMT dispatcher at Eascare Ambulance, headquartered in the old Brink's building beneath the Neponset Circle bridge. Last November, the 51-year-old father of two was working the overnight shift in the Eascare control room when he suddenly slumped over in his chair. He'd suffered a massive heart attack and stopped breathing. He had no pulse.
What Todd did have at his disposal was a group of colleagues trained in the lifesaving skills that would keep him alive that morning. They swung into action to stabilize Todd and rushed him to the emergency room at Carney Hospital, where doctors and nurses teamed up to save his life.
Todd doesn't remember much about the 5 a.m. "incident"— but he's pieced together enough to know that he is an extremely lucky man.
"Hats off to these folks at Eascare, they saved my life. And the Carney too, they did a fantastic job as well. I wouldn't have made it without them," Todd says.
Mark Donovan, a veteran EMT supervisor who was taking a nap in a nearby room when Todd's attack began, was one of the first to his side. Peter's fellow dispatcher, Colleen Starr, had already started CPR. A team of other Eascare employees and EMTs- operations manager Ryan Whitcomb, Dave Cavanagh, George Stuart, Darrelle Harmon and Andrew Gomes— assisted Donovan as they spent a half-hour to stabilize Peter and get him set for a four-minute sprint to the Dorchester Ave. hospital. Shortly after he arrived at the Carney, Todd went into cardiac arrest again in the ER and had to be brought back using CPR. He was later transported to Boston Medical Center, where he spent several more weeks in intensive care. Doctors gave him a 50-50 shot of making it. After two weeks in a medically induced coma, Todd woke up in a BMC hospital bed and soon after began a four-month stint in a South Shore rehab facility.
The critical moments under the care of his Eascare colleagues and the staff at the Carney are what made the difference, says Todd.
"Pete was extremely fortunate to be working when his heart went into ventricular fibrillation," says George Gilpin, the president and CEO of Eascare. "The fact that the paramedics, EMTs, and their equipment were there undoubtedly is the reason why Pete is alive today. Pete did not suffer any deficits that people normally do under these circumstances because the rapid treatment avoided his brain being deprived of oxygen."
Gilpin, a Dorchester resident, pointed to the proximity of the Carney as an important element in the situation. "It goes to show you the need for an emergency center right here in the neighborhood. The Carney is so needed."
Last week, Todd returned to Eascare for his first day back on the job. It was a joyful reunion— one that Todd prepared for by taking a special cardiac class to alter his lifestyle.
His daughter Lindsay says that the whole episode has brought the Todd family closer.
"It was heart-wrenching for us, but we never realized how many people cared for him," she said. "It was so touching how hard they worked to save his life. He's so lucky. Eascare is such a great group of people."