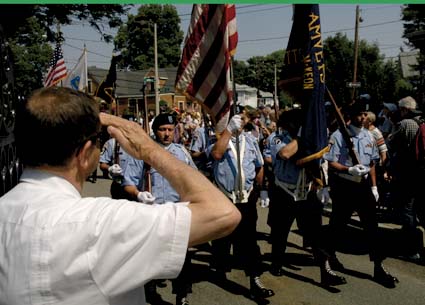 Memorial Day 2010: The color guard of the John P. McKeon Post entered Cedar Grove Cemetery this morning, May 31, 2010. Photo by Bill Forry
Over 1,000 people gathered at Cedar Grove Cemetery on Monday for the city's oldest Memorial Day observances in which a recently discharged Marine Corps sergeant spoke about his experiences in the service. The parade of veterans and bands that precedes the solemn ceremonies took a different, shorter route through the streets of Cedar Grove this year.
Steve Bickerton, commander of the Old Dorchester Post in Adams Corner, said that the committee of veterans who organize the annual event, elected to shorten the route to attract more participants, many of whom are now advanced in age. The group also hoped to enlist the participation of a younger crop of veterans in the ceremonies.
Marine Corps Sgt. Patrick Callahan, a Savin Hill native, addressed the gathering of veterans and neighbors who assemble near the entrance to the cemetery around 10:30 a.m. The 24 year-old Callahan completed two tours in Iraq before his discharge from the Marine Corps last September.
"The fact that we didn't go with a big general or colonel to speak as the keynote this year — and we went with a recently discharged guy, a sergeant — is in keeping with the theme of the parade this year: "A Salute to the Enlisted Men and Women of Dorchester," Bickerton said last week. "If people who served in Iraq or Afghanistan and the Desert Storm era marched, that would be great. A lot of Vietnam guys are getting older and, if nothing else, we hope that we can remind people about the war that is going on now. Everyone and should feel welcome to come and participate."
This year's parade stepped off from the McKeon Post parking lot near Florian Hall on Hallet Street at 10 a.m. The parade will follow a route up Hilltop Street, onto St. Brendan's Road, onto Milton Street. The procession will turn right onto Granite Avenue to Gallivan Boulevard and then turn into the cemetery via Adams Street. The parade will feature the Greater Boston Gaelic Brigade, Boston Police Gaelic Column and the Northeastern University Band, along with color guards from St. Brendan's parish, the St. Mark's Boy Scouts and the Thomas J. Kenny School Band. Longtime event organizer Dr. Francis Murphy served as officer of the day.