Jose Jobson of Chelsea was ordered held without bail today on charges he beat his pregnant girlfriend so badly at a Dorchester apartment that doctors had to induce labor to save the baby, the Suffolk County District Attorney's office reports. The baby, a girl, is doing fine, a spokesman said today.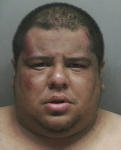 Booking photoAccording to police, Jobson began beating the woman on Nightingale Street in Dorchester Sunday afternoon. The DA's office says he may actually have begun beating her elsewhere, then brought her there - along with their three children - to continue the attack.
"The victim was rushed to Boston Medical Center with multiple injuries, including slashes and burns," Jake Wark, spokesman for the DA's office, said. "They were, in a word, monstrous. Because of the extent of her injuries, doctors had to induce labor."
Wark said Jobson fled the attack scene in an SUV with the three children in the back seat. Boston police officers managed to corner the vehicle on Hazelwood Court in Roxbury and ordered Jobson out, but instead, Wark said, "He instead began to climb into the back seat, where officers saw three young children screaming and crying."
Wark continued, "As the officers tried to remove him from the vehicle, Jobson allegedly struggled with them, striking one and drawing blood, and attempting to strangle another. It took five officers to extricate him. In the course of their efforts, one of the officers leaned on a jacket on the front passenger's seat, felt a hard object, and realized it was a gun. That gun, a Phoenix Arms .22 semiautomatic, was loaded with eight rounds in the magazine and one in the chamber."
Jobson pleaded not guilty in Dorchester District Court to charges of assault with intent to murder, mayhem, assault with a dangerous weapon, aggravated assault and battery, assault and battery with a dangerous weapon, unlawfully carrying a loaded firearm, assault and battery on a police officer, resisting arrest, failure to stop for police, and a number of motor vehicle offenses.
He is scheduled for a dangerousness hearing on Monday - and for a hearing on whether earlier bail on an outstanding charge of possession of heroin with intent to distribute in Somerville should be revoked.