By Reporter Staff
June 3, 2010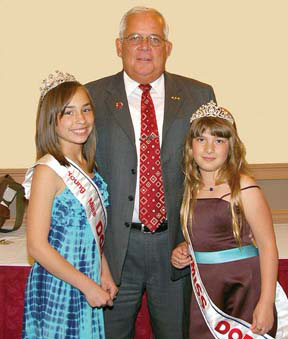 Dot Day 2010: Parade Chief Marshall Joe Zinck with Young Miss Dorchester Sophie Pacitti Philips, left, and Michelle Levinger, this year's Little Miss Dorchester.
Parade begins promptly on Sunday, June 6, 2010 at 1 p.m. on Dorchester Ave. in Lower Mills. Ends at Columbia Road.
2010 Chief Marshal
Joe Zinck
2010 Mayor of Dorchester
Susan Lombardi-Verticelli
2010 Essay Contest Winner
Stefania D'Amato
2010 Young Miss Dorchester
Sophie Pacitti Philips
2010 Little Miss Dorchester
Michelle Levinger
Parade Committee
Marty Hogan – President
Gloria Ann Vieira – CoVice President
Annissa George – Co Vice President
Joe Chaisson – Treasurer
Mary DeMariano – Secretary
Ed Geary, Jr. – Webmaster
George Hacunda – Historian
John Scannell - Historian
Dick Bennett
Ruth Brown
Gretchen Carney
Craig Hughes
Karen MacNutt
Ed Pimental
Peter Sasso
Pamela Smith
Barbra Trybe
Parade Announcers:
Annissa George / Craig Hughes /
Gretchen Carney
2010 Dorchester Day Parade Roster
ADVANCE UNIT
Boston Fire Department
Boston Emergency Medical Services
Eascare Ambulance
McCall Ambulance
Brewster Ambulance
CHIEF MARSHAL'S DIVISION
Mayor Thomas M. Menino and family
Governor Deval Patrick
Veterans Affairs Commissioner Gene Valliencourt
Boston Police Honor Guard
Boston Police Gaelic Column
5th Mass Battery
Westbrook Fife & Drum Corps
2010 Chief Marshal Joe Zinck
National Lancers Honor Guard & horses
DAV
2010 Mayor of Dorchester Susan Lombardi-Verticelli
7th Regiment
Worcester Sound and Light Military Band Organ
National Guard
English High School JROTC
Hyde Park High School JROTC
The Bostonian
Forbes School of Irish Dance
Old Towne Realty
St. Brendan's Color Guard
Wells Fargo stagecoach (horses) carrying 2010
Young Miss Dorchester / 2010 Little Miss
Dorchester and 2010 Essay Contest winner
1ST DIVISION
U.S. Congressman Stephen Lynch
Brian Boru Pipe Band
H. Levenbaum Insurance Co.
Roberto Clemente 21 Dancers
Dorchester Community Center
for Visual Arts (Dot Art)
State Treasurer Tim Cahill
Candidate for Governor
Uncle Sam's Jazz Band
Mt. Washington Bank
Girl Scouts of Eastern MA
Suffolk County Sheriff's Department Honor Guard
Suffolk County Sheriff Andrea J. Cabral
Alliance for Animals
In Realty
MA Nurses Association
Hallamore Construction Company (horses)
Dot Well
Grace Color Guard
State Senator Jack Hart
Spartan's Drum & Bugle Corps
Elizabeth Seton Academy
State Representative Martin J. Walsh
Military Style Band
Carney Hospital
State Representative Linda Dorcena Forry
Dynasty Productions
Sheriff Guy Glodis - Candidate for State Auditor
New Liberty Jazz Band
2ND DIVISION
City Councilor Maureen Feeney
Boston Windjammers
First Baptist Church
Dorchester YMCA
St. Marks Area Main Streets
City Councilor Stephen Murphy -
Candidate of State Treasurer
Worcester Brass Band
Seekers of Knowledge
Estrallas Tropicales
Patsy's Clowns
Dorchester Recycling Coalition
Century 21 - Cahill Associates
City Councilor John Connolly
Big Nazo Puppets
Boston All City Marching Band & Color Guard
Christ the Rock Church
Kenny School Band
College Hype
Standish Village Assisted Living
Dot Out
105.7 WROR-FM
First Parish Church
Dorchester People for Peace
Dot Bike
3RD DIVISION
Candidate for Governor Charlie Baker
Candidate for Lt. Governor- Richard Tisei
Upham's Elder Service Plan
Candidate for U.S. Congress Phil Dunkelbarger
Bay Cove Human Services
The Cycling Murrays
Candidate for State Auditor Mary Connaughton
Close to Home
92.9 WBOS-FM
Candidate for Governor Jill Stein
Vietnamese American Community of Mass
Candidate for State Treasurer Steve Grossman
Tony Barrie Marching Band
Action for Boston Community Development
Dorchester Arts Collaborative
Candidate for State Treasurer Karyn Polito
Russ Weisman's Polka Band
Candidate for State Representative
4th Suffolk Mark McGonagle
103.3 WODS-FM
Candidate for State Representative
5th Suffolk Althea Garrison
Kit Clark Senior Services
Candidate for State Representative
4th Suffolk Nick Collins
Panama Cultural Folklore Group of MA
This roster is printed as an informational guide only. The parade line up is subject to change by the committee at any time.
FOR THE MOST UP TO THE MINUTE INFORMATION ON THE PARADE AND UPDATES TO THE PARADE ROSTER, VISIT THE PARADE WEBSITE AT: www.dotdayparade.com