By Reporter Staff
December 28, 2010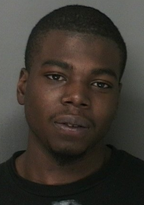 Eric McPhailBoston Police have issued an urgent appeal for the public's help in finding a 23 year-old suspect who allegedly chased down an ex-girlfriend and fired gunshots at her car during a brazen attack and car chase this morning in Dorchester and Jamaica Plain.
The suspect — Eric McPhail— is described as 5'9" black male, between 145-155 pounds and was last seen driving a 2002 Nissan Gray Altima with Massachusetts registration # 194FE7. McPhail is "considered armed and dangerous and has several outstanding warrants for his arrests in addition to the charges for today's incident," according to police.
Police say that McPhail followed his ex-girlfriend's car this morning and rammed into her at the intersection of American Legion Highway and Blue Hill Ave. around 9:40 a.m. this morning.
He then allegedly pulled alongside her car and fired shots at the vehicle, missing the victim and her passenger, who then fled to the District E-13 (Jamaica Plain). Police say the two "ran inside the station to alert officers to the developing situation. While inside the station, the suspect stole the victim's car and fled the scene."
Police urge anyone who sees the car or comes into contact with McPhail to immediately call 911.