By Gintautas Dumcius, News Editor
November 4, 2010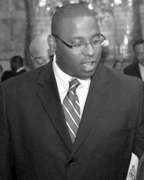 Tito JacksonWithin hours of the announcement of the verdict, the city's chattering class was already abuzz with who might be a candidate to replace City Councillor Chuck Turner, now a convicted felon, in District 7.
Tito Jackson, the popular political director for Gov. Deval Patrick, is topping the informal list of candidates put together by political insiders, as well as Turner.
PLUS: Council weighs Turner's political fate
In a letter to his colleagues on the City Council, who are mulling whether to expel the longtime community activist, Turner said this week he would not run for district councillor in 2011.
"Two years ago, I told Tito Jackson that if he wanted the District 7 seat, I would support him in 2013 given my decision to run for only one more term," Turner said in the email. "However, over the weekend, I told him that I would support him in a special election if I am removed from the Council or in next year's regular election if allowed to stay. He indicated he is interested and ready to run for City Council either immediately or next year."
A city council hearing on Turner's fate in office, which will be open to the public at his request, is scheduled for Dec. 1 at 3 p.m.
Other names in the mix include Monica Dean, former chief of staff to former state Sen. Dianne Wilkerson; Roxbury attorney Hassan Williams, who unsuccessfully mounted a primary challenge against state Sen. Sonia Chang-Diaz; and former City Council At-Large candidate Scotland Willis.
The length of the list is expected to fluctuate. But Jackson, who did not immediately respond to a request for comment, is the clear favorite.
The Grove Hall native missed a fourth place finish in last year's City Council At-Large race by 11,670 votes. Newcomers Ayanna Pressley, who finished ahead of Jackson with 41,880 votes, and Felix Arroyo filled the two open seats that spawned a field of 15 people.
Jackson has worked as a Patrick administration official in the Executive Office of Economic Development and is the son of Herbert Kwaku Zulu Jackson, who founded the Greater Roxbury Workers Association.
Williams, a Roxbury Democrat, is fresh off a fight in the Second Suffolk Senate district. But his candidacy also drew concern from gay rights groups, since he called gay marriage a "divisive" issue and declined to be "boxed in" on it.
Dean, as well as having worked as chief of staff to Wilkerson, worked as an office director for Maloney Properties, which handles affordable housing developments. She has also worked as counselor at aid for Incarcerated Mothers in Boston. She has a B.A in psychology and a Masters degree in mental health counseling.
Natalie Carithers, former chief of staff to retiring state Rep. Willie Mae Allen (D-Mattapan), is also said to be weighing a run. Carithers has been a radio personality on Touch 106.1 FM and is a graduate of Hyde Park High School. She graduated from Northeastern with a degree in healthcare management.
Althea Garrison, a former state representative who frequently runs for office, could also throw her hat into the ring. She has unsuccessfully challenged Turner in the last two City Council election cycles.
Turner's district includes Roxbury, Lower Roxbury, and parts of the Fenway, the South End, and Dorchester.
Turner, in his own words
Immediately after the guilty verdict came down last Friday, Councillor Turner and his supporters did what they do best: They mounted a rally outside of his district office in Dudley Square. Turner slammed pretty much everybody, except the jury who convicted him, saying they had been "hoodwinked" by federal prosecutors and were "innocent victims."
Community members say many of the attendees at Turner's rally were not from Turner's district and were largely there as spectators. Many elected officials and leaders from communities of color say they're not ready to speak publicly about the verdict, citing concern over the effect of the community's trust in its black leaders and the viability of other black officials and candidates in Boston.
Turner, who has steadfastly maintained his innocence, trained his fire on the government's one-time cooperating witness Ron Wilburn, the Roxbury businessman, calling him an "undercover hood" and a "handkerchief head," saying he should apologize and he would be forgiven. "You complain, you complain after they use you, you complain about it, Ron. Keep your damn mouth shut about what they did. You – they paid you their 30 pieces of silver, they gave you the 30 thousand dollars, you got the 30 pieces of silver, so shut your damn mouth. They did what they did to people who take the silver. They kicked you to the curb, so shut your mouth."
Turner also called the U.S. Constitution an "illegal document." Turner said: "That is, we had a confederation of states. They weren't supposed to be able to gather the way they did down in Philadelphia but they did it anyway because they were scared to death, because people were standing up, the white people were standing up and saying, 'We're coming to take our land away from you, the bankers.' And that scared them to death, and they formed the Constitution."
And he had his unique take on Massachusetts: "You know, there's been a fight going on in this city between the Yankees and the Irish. And then once the Irish got control, what did they do? They turned around and fought the Italians and fought others. Why? Because the Yankees had taught them. This about dog-eat-dog, this about getting yours and keeping it and kicking everybody back to the curb. That's what Massachusetts is all about."
Post-mortem on 2010
A pair of reporters and a polling expert parse the results of the 2010 election results on Friday. Bruce Mohl, editor of CommonWealth magazine, will moderate a panel that includes Alison King, a reporter for New England Cable News, Boston Globe columnist Scot Lehigh, and Steven Koczela, president of the MassINC polling group. The Friday panel is scheduled to start at 8 a.m. at Suffolk University Law School in Room 235.
EDITOR'S NOTE: Manolia Charlotin contributed to this report. Check out updates to Boston's political scene at The Lit Drop, located at dotnews.com/litdrop.