By Gintautas Dumcius, News Editor
December 17, 2010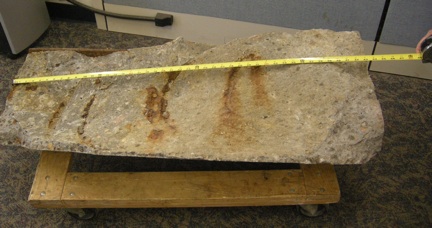 UMass-Boston concrete falls: No one was hurt when this 385 pound section fell in an unoccupied area of Wheatley Hall on Thursday.UMass-Boston officials were reminded this week that parts of the campus are crumbling – literally.
The Columbia Point campus's chief of facilities management said in a Thursday email to Chancellor Keith Motley and other university officials that a 385-pound section of concrete below Wheatley Hall fell from the lower level's ceiling that morning.
No one was injured and the area is not accessible to the public, university officials said, adding that the campus remains safe.
"It fell next to a column in an unoccupied area," Dorothy Renaghan, the assistant vice chancellor for facilities management, said in the email, obtained by the Reporter.
The section of fallen concrete, which measures out to 44 inches by 21.75 inches by 10.25 inches, was discovered by a work crew. A structural engineer has been called in, according to university spokesman DeWayne Lehman.
"We're taking every precaution that we can to make sure the campus is safe and the substructure is safe," Lehman said.
The substructure includes a former 1,560-car garage, which was closed in 2006 after the Big Dig ceiling collapse that claimed the life of a car passenger, and also functions as a foundation for the campus, which was built in the 1970s. The two-level substructure connects five of the campus's six administrative and academic buildings.
The university, which is also building new academic buildings, is spending $25 million to shore up the substructure. Some of that work has included putting in place new supports.
Pieces of the lower level's ceiling have fallen before, with debris striking a car in 2005.
"This incident reminds us that we need to remind unauthorized people to stay out of the Substructure and that our efforts to shore up the Substructure continue to be critical," Renaghan wrote. "My staff continues to have signs placed on all doors within the Substructure, that cannot be locked off because they are egress doors, reminding people that the Substructure is closed to pedestrian traffic. Operations staff and contractors working within the Substructure are constantly reminded to wear hardhats and stay on protected walkways when walking through."
The condition of the former garage appears largely due to shoddy construction, which led to a state construction scandal, the conviction and jailing of two state senators, and the special Ward Commission aimed at documenting the fraud in the late 1970s.