By Gintautas Dumcius, News Editor
October 7, 2010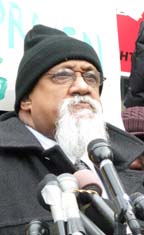 Councillor Chuck TurnerAfter two years of warring in the court of public opinion and a flurry of legal filings, District Councillor Chuck Turner and federal prosecutors head to U.S. District Court next week.
In November 2008, Turner was hit with charges of accepting a $1,000 bribe and lying to FBI agents, a month after Dianne Wilkerson, then a state senator, was arrested on accepting thousands of dollars in bribes. Both cases involved a cooperating witness seeking to obtain a liquor license for a proposed club in Roxbury, who, according to Turner, was also involved in a "police corruption investigation."
Unlike Wilkerson, who largely avoided the spotlight and eventually pleaded guilty to the corruption charges leveled against her, Turner quickly went on the offensive and rarely let up, denying the allegations and frequently accusing prosecutors of racism, discrimination, and inaccuracies in their indictments.
The federal corruption charges had little impact on his political career: In 2009, Turner cruised to victory in a four-way September preliminary with 52 percent of the vote and he won re-election the following November with 60 percent of the vote. Turner, a member of the Green-Rainbow Party and a Cincinnati native, has held the seat since 2000.
Starting on Tuesday, Turner takes his fight to a courtroom in the Joseph Moakley Courthouse in South Boston. The trial is expected to last three weeks.
"The trial is going to be about my having a chance to defend myself" without "spin" from the media and the U.S. Attorney's Office, he told the Reporter this week.
District 4 Councillor Charles Yancey, who counts himself as a friend and "admirer" of Turner, said, "What has amazed me is his resilience. I don't know if I could handle the accusations hanging over my head." He believes Turner is innocent. "He's not the type of guy who would do a quid pro quo," he said, echoing other Turner supporters who also argue that at the very least, what Turner committed was simply a campaign finance violation.
Prosecutors, who have vigorously pushed back against Turner's charges of racism, will seek to paint a different picture. Responding to a court filing from Turner's legal team that the case against him was "riddled with racism and discriminatory conduct," the prosecutors, John McNeil and James Dowden, note that, "Beyond his bald assertion, however, Turner has failed to articulate a proper legal basis for raising this claim at trial."
And soon after the arrests of Turner and Wilkerson, who are both black, then-U.S. Attorney Michael Sullivan said, "We're blind to color when it comes to the evidence," referring to photographic evidence of both elected officials allegedly taking money from the cooperating witness. Lawmakers who have previously worked with Sullivan, who stepped down last year and was replaced by Carmen Ortiz, say he puts aside politics and race.
The cooperating witness was identified in 2008 by the Boston Globe as Ron Wilburn, a local African-American businessman. Wilburn has told the Globe he is not interested in testifying against Turner and feels used by the FBI in the Wilkerson and Turner cases.
He has maintained there are few connections between his case and Wilkerson (a judge allowed their cases to be separated). Wilkerson is expected to be sentenced after the Turner trial wraps up.
Turner is also arguing that the FBI's cooperating witness engaged in illegal activity prior to and during his involvement in the case, and that the witness's knowledge of unlawful activities by a business associate, Manny Soto, is a basis for impeaching the cooperating witness.
"Although the [Cooperating Witness] in this case was never actually charged with any crimes, it appears that at a minimum, the CW in this case was aware of the illegal activity and continued to support and be involved with his business partner," Turner's attorney Barry Wilson wrote. "Also, it should be pointed out that the Government has indicated that it considered offering the CW immunity in regards to his testimony to the Grand Jury."
Turner sought to draw parallels between the witness's business partner and Whitey Bulger, a source of embarrassment for the FBI as an informant who allegedly committed crimes and was protected by his handlers. "Here it is 20 years later and they're doing the same thing," Turner told the Reporter.
Federal prosecutors argue that Turner seeks to tar the cooperating witness through the business partner, which they urged the federal judge to reject. "In essence, Turner is seeking to discredit the CW, not based on the CW's own conduct, but on the conduct of a much younger business associate whom the CW was mentoring," prosecutors wrote. "It appears to be some form of 'impeachment by association,' rather than some proper form of impeachment."