By Reporter Staff
November 2, 2010
LATEST STORY: Grassroot Dems pulled out all the stops for Deval
Incumbent Governor Deval Patrick and his running mate Timothy Murray — who have won re-election according to multiple news sources tonight— are well on their way to a decisive victory tonight in Dorchester and Mattapan, according to unofficial results coming into the Reporter newsroom.
So far, Patrick has bested his chief rival Charlie Baker in the bellwether precincts of Florian Hall in Neponset by a margin of 817-490 (combined for the two precincts there, 16-12 and 16-11.)
Patrick has won a landslide victory at the twin precincts of Lower Mills Library: Patrick 1,007— Baker 204— Cahill 75.
The governor ran up impressive margins over his rivals at the Woodrow Wilson School (17-14), which was one of the neighborhood's top performing turnout spots today. Patrick ran up the score there: 762-91 over Baker.
JUST IN: Carlos Henriquez wins election to Fifth Suffolk House seat
Earlier coverage:
Election 2010: the View from Florian Hall from Chris Lovett on Vimeo.
A Neighborhood Network News report captured the scene at Dorchester's Florian Hall this afternoon. As NNN's Joe Roland notes, the double-precinct bellwether went for Deval Patrick in 2006, but leaned towards Scott Brown last January.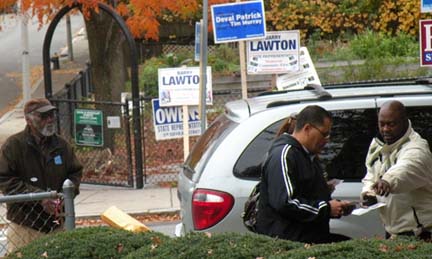 Election 2010: Cardinal Medeiros Manor in Ward 13: At right, a volunteer for write-in candidate Barry Lawton talked to a voter as Carlos Henriquez's father Julio looked on at left.
Voter turnout is described as heavy in Dorchester and Mattapan at midday, as bellwether polling stations continue to build on impressive totals from the morning rush. The city of Boston Election Department reports that the citywide voter turnout stood at 15.75% at noontime.
In the Fifth Suffolk district, where Democrat Carlos Henriquez is on the ballot to become the next state representative for parts of Dorchester and Roxbury, a write-in challenge from Barry Lawton has materialized as promised. Lawton finished 42 votes behind Henriquez in the September primary and fielded volunteers this morning who asked voters to affix stickers with Lawton's name onto ballots in a bid to defeat Henriquez.
A quick snapshot of voter turnout figures that have come in to the Reporter newsroom include:
- The Chittick School on the Mattapan-Hyde Park Line has a whopping 816 votes by 1:15p.m., which is very good news for the Patrick camp, which carried the double-precinct there in '06 by a 9-1 margin. The news this time is that the early vote allows for shorter lines later — which stretched down the block in '06 and '08 and on a cold night like tonight could be discouraging for late voters. Patrick-Murray wracked up 1,612 votes from the Chittick back in '06, so they are on track to at least meet that threshold— especially if voters there follow their well-worn pattern of later-in-the-day voting.
- A surprising 175 people had voted at the often-sleepy Wilson School (17-4) on Codman Hill by 10 a.m., surpassing one of the city's typically busier precincts (16-11) at Florian Hall in Neponset (16-11) which had 136 at the same hour.
- Mattapan's Groveland Senior Center— which has become one of the city's more reliable bellwethers in communities of color— recorded 408 voters by 10 a.m.— besting the Florian double-precinct which had 371. Update: The Groveland was up to 792 by 1:45 p.m.
- Another robust polling site in Ward 18- the Chittick School- was on pace for a huge turnout with 419 voters by 10 a.m.
- The Adams Street Library had 284 voters at 11:30 a.m.
- The noontime total at Mildred Ave. Community Center (18-2) is a relatively strong 238.