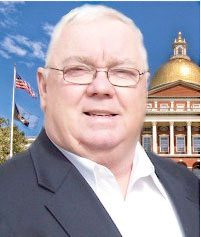 Brian Wallace
First it was state Rep. Willie Mae Allen. Then her colleague, Marie St. Fleur, a ten-year veteran of Beacon Hill, announced she wasn't running for another term, too. This week Rep. Brian Wallace became the third member of Dorchester's State House delegation to opt out of this year's state elections.
They are among the roughly two dozen lawmakers across the state not seeking reelection for a variety of reasons, ranging from running for another office to wanting to spend more time with their families.
For Wallace, a South Boston Democrat who represents parts of Uphams Corner and Harbor Point, it's apparently the latter. Another reelection campaign – one freighted with potential candidates – would mean being out almost every night. "I just felt it was time to stay home some nights," Wallace told the Reporter. "I felt it was time to give someone else a chance."
Health issues, which he declined to go into detail on, were also a factor. "The stress of the job can be tough," the 60-year-old Wallace said.
Wallace has held the seat since 2003. His decision to retire ended months of speculation about whether he was running again. It appeared to be sudden, too: He had recently held a fundraiser and a second nomination signature drive had been scheduled for this weekend. The decision caught a number of local political observers by surprise.
He noted that during his tenure he had worked on legislation on substance abuse prevention with state Sen. Jack Hart and state Rep. Marty Walsh, fellow members of the Dorchester delegation; helped pass tax credits to lure film production companies to Massachusetts; and helped name a courthouse in South Boston after Judge Joseph Feeney, whom his father had worked for. Casinos, another top issue for Wallace, will likely come up for a vote this year.
"I accomplished what I wanted to accomplish," Wallace said.
Longtime Beacon Hill observer Judy Meredith praised Wallace as the "traditional model" of a state representative. "He knew everybody and everybody knew him," she said. "He's always put community youth and family first," added Michael Flaherty, former city councillor from South Boston.
Flaherty, a Democrat who unsuccessfully ran for mayor last year, said he had "not given any thought whatsoever" to running for the seat once held by his father. Widely expected to run for mayor again in 2013, Flaherty said he was focused on practicing law at the firm of Adler Pollock and Sheehan.
Though Republican Scott Brown did well in South Boston in the U.S. Senate race, most of the individuals showing interest in the Fourth Suffolk District seat have been Democrats. They include Michael McGee, a South Boston attorney who announced in November that he was running; Jacob Bombard, former president of the student government association at South Boston Harbor Academy; Jeffrey Poreda, a UMass-Boston student; and Mark McGonagle, also a Democrat, established a political committee with the Office of Campaign and Political Finance.
Accountant Patrick Brennan is running as a Republican.
McGonagle, the latest potential candidate, is a youth service worker and lifelong South Boston resident. "I believe the role of government is to help people," he said. "That is why I'm getting involved now."
He said his priorities include advocating for more local aid and teachers, tackling substance abuse issues and attempting to jump-start stalled development within Boston. His official campaign launch is scheduled at Amhrein's Restaurant in South Boston on March 9.
Brennan, the chair of the Ward 6 Republican Committee and an avid runner, said he was jumping into the race because "new blood" is needed on Beacon Hill. His focus is on helping small businesses create jobs, he said.
Brennan said the Brown win was a factor in his decision to get into the race. "That helped a little of the motivation," he said. "I wouldn't say it's the only reason."