By Tara Merrigan Special to the Reporter
June 9, 2010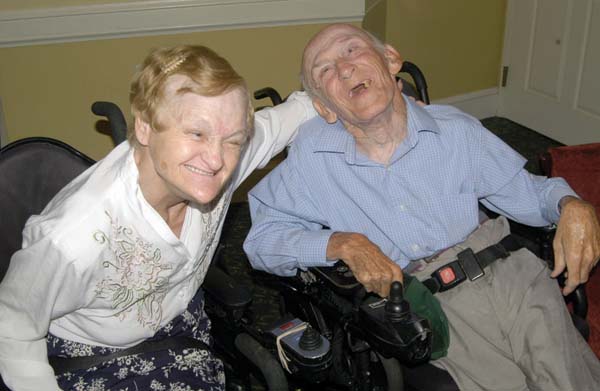 Doris Bates and Jack Quinn, both residents at Standish Village in Lower Mills, will be married on Saturday. Photo by Tara Merrigan.
Smiling and gazing into each other's eyes, John "Jack" Quinn and Doris Bates described their feelings towards each other, their history together, and their upcoming wedding.
Quinn, 72, and Bates, 66, will be married—both for the first time—this Saturday at St. Brendan's Church in Dorchester.
Quinn and Bates—who live at Standish Village, an independent and assisted living community in Lower Mills—both have cerebral palsy and have limited mobility. The couple said, however, that they do not let their handicap prevent them from enjoying life.
The two met three years ago, when Quinn first arrived at Standish Village, and made an instant connection said Lauren Sherer, Standish Village's social program director. Quinn and Bates started dating two years ago and have been engaged since January.
In Standish Village's cozy library, Bates explained that she went into Quinn's room and asked him if he would like to marry her. Quinn said yes and afterwards bought a ring for her, said Bates proudly showing off her engagement ring, a silver band encrusted with black and crystal gems. After they announced their engagement, the two moved into the same apartment.
"After Doris asked me, I went out to the store and picked her out a ring myself and bought her red roses," said Quinn.
For the past month, Sherer has been planning their wedding, which will be attended by approximately 100 guests including members of both Quinn's and Bates' families and Standish staff and residents.
The reception will be held at St. Brendan's afterward. Many local businesses—including Gerard's Restaurant, Blasi's Café, Ledge Kitchen & Drinks, Supreme Liquors, Pat's Pizza, Lopez Florist, and Beacon Hill Chocolate—have donated food, beverages and decorations for the wedding.
Quinn's best man and legal guardian Myles Dowling will be present at the altar with him, and Dennis Walsh will stand with Bates at the altar. Walsh, who met Quinn a few years ago, fixed the chair lift at St. Brendan's for the ceremony and helped Quinn find proof of his baptism so he could be married in a Catholic church.
Walsh has devoted much time of his time to helping the disabled and has organized a social for those with special needs and their friends called the Friend S.H.I.P. (Say Hello to an Individual Person) Party set to take place on Friday, June 25 at Florian Hall. Quinn and Bates said they both plan to attend.
 
The staff at Standish Village said that Quinn and Bates are deeply devoted to each other; Bates helps Quinn get dressed and brings him his morning coffee each day, and Quinn always waits for Bates outside the building if he returns earlier than Bates from his day's activities.
"I remember once there was a jewelry sale here, around the holidays," said Jean Patel Bushnell, executive director of Standish Village. "Later in the evening I saw Doris with all this glorious colorful jewelry on. I told her she looked wonderful. She smiled and said that Jack had bought it for her."
 
The couple said they are not nervous about marriage. Bates said it was love at first sight for her and she still gets butterflies when she sees Quinn. Quinn, who is an avid music fan, said he plans to bring Doris to WODS's summer concerts at the Hatch Shell when they are married.
"I want to do things to make Doris happy," said Quinn. "We help each other out."
Quinn's and Bates' engagement has generated much excitement and has been a hot topic of discussion at Standish, according to Sherer and Bushnell. Sherer said that their engagement has brought the Standish community together—many staff members have helped organize the wedding's festivities, including Bachelor and Bachelorette parties set to take place tonight.
"They make me want to be a better person," said Sherer. "Every day I stop in the hall and talk with them—I just want to make them smile. I can't say enough about them. The two of them are unbelievable people."