An alleged gunman briefly managed to evade police Monday afternoon by removing all his clothes, but officers caught up with him after witnesses told them they'd just seen a naked guy running down the street.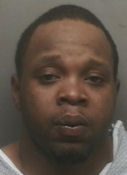 JosephAccording to a Boston Police report, officers on routing patrol Monday afternoon pulled a car over near Lyford and Oakhurst streets because it had a broken brake light and an expired inspection sticker. When the two guys in the back seat seemed to be hiding something, the officers ordered them out of the car. And then, police say, "The operator of the car grabbed for a jacket on the rear floor of the car. When the jacket was removed, officers immediately observed a black firearm on the floor of the car. Seeing the weapon, officer quickly moved to seize and secure the firearm. When officers moved to grab the firearm, the rear passenger took off and a foot chase ensued."
Police say the fleeing man tried jumping over a barbed-wire fence but got stuck long enough for an officer to grab him by the shirt - which got pulled off. "The officer then grabbed the suspect by his belt but the suspect, who was now kicking the officer, undid his belt and jumped over the fence. At this point, the suspect, now naked, was running without any clothes."
Officers briefly lost sight of the man, but witnesses told the cops - now aided by colleagues from State and Transit Police - they'd seen a naked guy running along Armandine Street.
Peterson Joseph, 27, of Everett, was arrested in a backyard on Whitman Street. He was charged with illegal possession of a firearm and ammunition, carrying a loaded firearm, possession of a large capacity feeding device, assault and batter by means of a dangerous weapon on a police officer (his shod foot), resisting arrest and gross lewdness. He was not, however, charged with carrying a concealed weapon.
Joseph was arraigned Tuesday in Dorchester District Court. According to the Suffolk County District Attorney's office:
"Joseph is charged as a Level II armed career criminal in light of two prior gun convictions in Suffolk Superior Court: one from 2002 for which he served a year and one in 2007 for which he served three years. He is also on probation out of Malden for heroin distribution. Prosecutors recommended that Joseph be held on $150,000 cash bail as the very definition of a flight risk given his prior record and his nude flight from police; Judge Franco Gobourne set bail at $5,000. Dorchester District Court prosecutors contacted his probation officer to discuss the apparent violation of that probation and ensured that a warrant would be in place in the event that he posts bail."