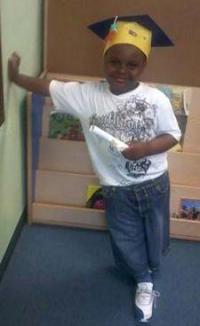 A.J.: Shot in the back at Harambee Park on June 28.Boston Police Commissioner Ed Davis says that some family members of the 4 year-old boy "A.J." who was shot at Harambee Park last week "have not been cooperative" with police as they search for the shooters responsible for the little boy's injury. The tot was wounded when gunfire broke out at the Franklin Field playground after 9 p.m. on June 28, as hundreds of people were still gathered at the park.
There have been no arrests in the case. The little boy's mother made a dramatic appeal for the community to come forward with information in the case during a press conference with Commissioner Davis last week.
Davis made his remarks at the end of a public address that was streamed live on the Internet this afternoon. When specifically asked about the BPD's investigation into the Harambee Park shooting, Davis said, "We need more information. People have come forward."
But, Davis added, "Some people close to the child injured have not been cooperative. There are members of the family who are in a position to help us and could do a lot more."
Davis spoke generally about police efforts to curb a rash of gun violence on the city's streets over the last two weeks. When asked what part of the city is of the most concern right now, he quickly responded: "Right now Dorchester is, the Bowdoin Street area mostly."
Davis said that an outbreak of gun attacks in Mattapan "several weeks ago" has "really stopped" after police enforcement stepped up in that neighborhood. "We have to chase it around the city."