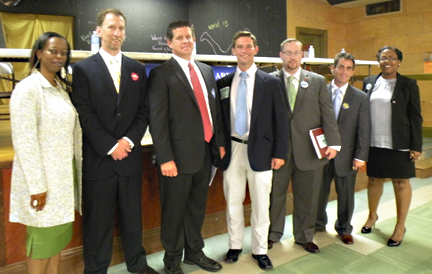 District 3 council hopefuls: The candidates before a June forum: Marydith Tuitt, John O'Toole, Craig Galvin, Doug Bennett, Marty Hogan, Frank Baker, and Stephanie Everett.
The preliminary election is just 8 days away and there are signs aplenty that the District 3 campaigns are ramping up. Candidates are hitting the streets to knock on doors and meet voters and hunkering down for phone banking and identifying potential supporters.
Latest from The Lit Drop (Thursday, Sept. 15)— With 12 days left, a round-up from the D-3 trail

EXCLUSIVE FEATURE: Research the candidates' positions on key issues
"The plan hasn't changed; it's just knocking doors and saying hi to people," said Frank Baker, one of the seven candidates vying to succeed City Councillor Maureen Feeney. "It's just getting in front of as many people as you possibly can."
With Labor Day weekend over, candidates say the marathon has turned into a sprint to the finish.
"More of the same, except at a higher rate, a higher scale," said Marydith Tuitt, an aide to state Rep. Gloria Fox.
The widely-held view among local political insiders has the race boiling down to a three-way donnybrook between Baker, former Cedar Grove Civic president John O'Toole, and Craig Galvin, a Neponset-based realtor who has also been active in local civic circles. The other candidates include Tuitt; Stephanie Everett, an aide to state Sen. Sonia Chang-Diaz; Marty Hogan, an information technology consultant; and former Nantucket selectman Doug Bennett.
"The response that I'm getting is really encouraging to me," O'Toole said. "I'm glad to hear people are familiar with me and familiar with what I've done in the community."
Added Galvin: "I have a plan and I continue to move forward with the plan, and I'm excited about the reception from the entire district."
The preliminary election is set for Tuesday, Sept. 27. The two top vote-getters that day will advance to the final election on Nov. 8.
"I honestly have no idea what's going to happen," said Joyce Linehan, a local activist who has been watching the race closely. She has worked on political campaigns with all three of the frontrunners in the race and is unaligned. "I'm really curious to see how it turns out," she said.
The winners will be whoever gets family members and supporters out to the polls in a September when there is no mayoral race on the ballot, observers say. The other hot contest in the city is the seven-way at-large race that doesn't have a preliminary, meaning all candidates will slug it out for the four City Council At-Large seats in November.
"It's about who has the best get-out-the vote operation," said state Rep. Marty Walsh, a Dorchester Democrat who is backing Baker.
On Tues., Sept. 20, a week before the election, the candidates will convene at 1135 Morton St. in Mattapan for a forum organized by Harbor Health Services. Michael Curry, president of the Boston branch of the NAACP, will moderate.
The session is also being sponsored by voting rights group MassVOTE, a number of local health centers, and the Reporter newspapers, among others.
Endorsement rollouts occurred largely over the summer: Unions, which can provide crucial help on the ground, have been breaking mainly between O'Toole and Baker. Feeney, who has held the seat since 1993, is supporting O'Toole. And Galvin recently picked up the support of DotOUT, an influential group of local gay, lesbian, transgender, and bisexual civic activists.
Baker, Galvin and O'Toole are leading in the money race, as well. O'Toole hauled in $24,208 in August, outpacing Galvin, who had led in fundraising totals for several months. Still, Galvin remains the candidate with the biggest war-chest as the climactic month begins.
O'Toole, former president of the Cedar Grove Civic Association, headed into September with an ending account balance of over $22,400. He spent $150 on radio advertising on WROL, an AM station that features a popular Irish music program and is a frequent target for ads from politicians with an Irish heritage.
O'Toole also dropped $2,500 in consulting fees on Emily Nowlin, who helped manage Mayor Thomas Menino's 2009 reelection campaign. Dan Cullinane, a former aide to Feeney and Attorney General Martha Coakley, is running O'Toole's campaign.
Galvin, who waited until Labor Day weekend to put up his signs around the neighborhood, placed second in fundraising, picking up $21,935 in August. He headed into September with $32,700 in his campaign account.
He spent $1,340 in consulting at 3 Street Inc., which has had Gov. Deval Patrick and the Massachusetts Democratic Party as clients.
Baker pulled in $14,872 and had $3,372 as an ending balance in his campaign account at the end of August. He paid Chris Keohan, who runs CK Strategies and worked on Congressman Michael Capuano's unsuccessful 2009 Senate campaign, for consulting, with a $2,000 payment in mid-August.
For many more details on the District 3 candidates, their backgrounds and positions on issues, see the Reporter's website, DotNews.com. A candidate questionnaire, filled out by six of the seven hopefuls, is posted there for your review.