By Gintautas Dumcius, News Editor
June 29, 2011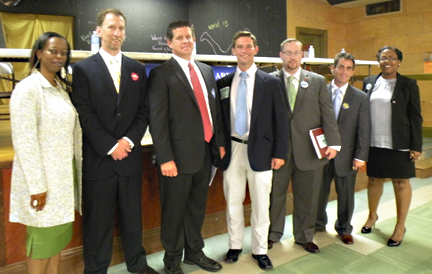 The D3 seven: before Tuesday's forum at St. Mark's Church hall: Marydith Tuitt, John O'Toole, Craig Galvin, Doug Bennett, Marty Hogan, Frank Baker and Stephanie Everett. Photo by Pat Tarantino
Related story: A closer look at the voting records of the District 3 candidates
The seven District 3 candidates hoping to replace City Councillor Maureen Feeney made their pitch to voters Tuesday night, taking the stage in the St. Mark's Church hall in the first of several face-offs expected this summer and fall. Before a crowd of about a hundred supporters and neighborhood residents, the candidates offered up their positions on controversial Suffolk County holidays, taxes, and Dorchester Ave. beautification efforts.
Questioned by Luis Jimenez, the president of the St. Mark's Area Civic Association, on whether they supported celebrating the two holidays – Evacuation Day on March 17 and Bunker Hill Day on June 17 – or favored efforts to deny them holiday status in order to save city funds, Savin Hill's Frank Baker and Codman Hill's Marydith Tuitt said they backed public employees receiving the two days off. John O'Toole, former head of the Cedar Grove Civic Association, and Stephanie Everett, a top aide to state Sen. Sonia Chang-Diaz, called for a cost analysis on officially noting the historic days that some call "hack holidays."
Under collective bargaining agreements, union employees are allowed to take the days off, and if they work those days they receive a "floating holiday." City and Suffolk County offices are often open but lightly staffed on those two days.
Baker said residents should celebrate Evacuation Day, which coincides with St. Patrick's Day and the annual parade and breakfast in South Boston. The holiday commemorates the day British forces, who were under siege, left Boston during the Revolutionary War. June 17 is the date of the Battle of Bunker Hill between the Patriots and the British.
"I think it's a significant day," Baker said of Evacuation Day. As for Bunker Hill Day, he said, lawmakers can get rid of that one. "That's Charlestown, right?" he quipped, drawing laughs.
Tuitt, chief of staff to state Rep. Gloria Fox (D-Roxbury), said the holidays were a "touchy subject" on Beacon Hill, since other counties did not receive the same holidays. "America should celebrate Evacuation Day," she said, drawing applause. "Without that day we might not be here in America. We might still be a British colony."
The candidates also offered up ways to shore up city finances, such as increasing payments in lieu of the taxes (PILOT) entities like hospitals, nonprofits, and universities make. Baker said he supports churches and nonprofits receiving the tax exemptions. But, he added, "I can see UMass from my house and I wonder what UMass is doing for my household…I think it's a discussion worth having."
O'Toole suggested looking at lifting the tax exemption on commercial and residential properties owned by universities, and on land owned by the Massachusetts Port Authority, which runs Logan International Airport.
Martin Hogan, a South Boston native who works in information technology, said councillors should look at the city budget "line by line" and make it more accessible online. And he would have the city cut back on the $80 million spent on school transportation costs.
Craig Galvin, a civic activist and local realtor, said city employees should be asked about ways to save money. "The city employees in this city did not cause the economic downturn nor should they pay for it," he said.
Candidates were also questioned about what they would do about storefront signage along Dorchester Ave. and owners whose properties have fallen into disrepair.
Doug Bennett, a former Nantucket selectman and past City Council At-Large candidate, said he would encourage entrepreneurs to open more restaurants on the thoroughfare.
O'Toole said small businesses deal with a "daunting" process for permitting and zoning. The key is involving the city's Main Streets program and the Department of Neighborhood Development, he said.
Tuitt called for engaging property owners who aren't local residents. "A lot of times, too, I notice a lot of our property owners don't reside in Dorchester," she said. They don't feel vested in our community."
A past beneficiary of city programs as an owner of a restaurant, Baker said a city councillor should walk novice businesses and landlords through City Hall's process. "I think the job as city councillor is to reach out to these businesses and landlords to connect people to the city services," he said.
Hogan said the city could hold "webinars," or web seminars, online, so business owners don't feel like they're heading into a "blind alley alone."
The seven candidates, most of them running for office for the first time, were also given the chance to introduce themselves to the crowd in opening statements.
Galvin, who lives around the corner from St. Mark's Church, grew up in Dorchester and bought his first house at age 23. "While people were leaving we made the choice to stay here and we're proud of that," he said, describing himself as a details-oriented leader who knows the neighborhoods of Dorchester.
Hogan, who moved to Dorchester six years ago, said he persuaded his mother to move in as well.
Bennett, who pledged to serve two-to-three terms on the council, said he brings a "grasp of municipal government" because he once served as a Nantucket selectman.
In an early stumble, Bennett said he was the only candidate to serve in the military. Tuitt, who spoke right after him, said she had served 14 years in the Navy. "I want to be your voice on the issues," she told the crowd.
O'Toole, who said he was baptized in the church upstairs, and Baker, one of thirteen children, highlighted their civic work and lengthy resumes working for the city.
During the forum, Feeney's involvement and frequent attendance at civic association meetings and community events was also noted, with several candidates, like O'Toole and Baker, pointing out that the longtime councillor set a "high bar."
"Simple answer: yes," Hogan said. "And I hope I'll be able to do just as much, if not more."
"I don't think anybody's going to say 'No, I'm not going to come to the meetings," Everett said, adding that she will come to the meetings either in person or have a staffer attend them.
The preliminary balloting will be on Sept. 27. The top two finishers will face off on Nov. 8.