By Rachel Zarrell, Special to the Reporter
February 28, 2011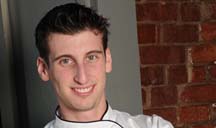 Christopher Coombs: Photo by Kevin Day PhotographyIn a poll of the country's best new chefs by Food & Wine magazine, dbar's head chef Chris Coombs is half a percentage behind to win the New England title, the prize being a spread in the magazine's July issue.
The winners of the poll will be announced tomorrow night, with four out of the ten names on New England's list hailing from Boston. Co-owner and head chef of the South End's Coppa, Jamie Bissonnette, is currently leading by a hair at 43.21 percent, with Dorchester's Coombs coming in at 42.88 percent, as of Monday afternoon.
None of the eight other nominees has earned more than 5 percent of the vote.
Besides his contribution to turning Dot Ave's dbar into a neighborhood favorite, Coombs is also head chef and part-owner of the Back Bay's Deuxave, which offers American-inspired French cuisine. For him, winning the poll and being featured in Food & Wine, which has a circulation of just under a million readers, could "slingshot [his] career to the next level," as well as garner "much-needed attention" for Dorchester restaurants.
"We all work very hard in this business and very few of us are ever fortunate to gain the recognition or the title of Best New Chef," he said. "My team and I have worked incredibly hard to strive for perfection tirelessly every day, day in and day out. It's nice that that has become recognized."
As for his competitor, the former "Chopped" contestant had nothing but kind words to say about Bissonnette.
"I think he's a tremendously talented chef," Coombs said. "Just the fact that my name is mentioned in the same breath as his is in an honor in itself."
Coombs has had a love for cooking since he was a kid, and got his first job at the age of 12, working at a seafood restaurant. In 2002, he was hired at Blue Ginger at 17, the same year the restaurant won the James Beard award – to foodies, a prize equivalent to an Oscar.
Retired food editor and Savin Hill resident Peter McNamara, who has been Coombs' mentor for five years, said Coombs deserves to win for being a relative unknown, whereas Bissonnette is a recognizable owner and chef.
"After four years of being in Dorchester, he's finally getting recognized for the quality of his food," he said.
Among his praise for Coombs, McNamara gave two reasons he deserves the title: "First, Chris is really talented; I love seeing young talent in the Boston area. But second, [dbar] is in my neighborhood – it's so wonderful to have a place you can go eat."