As the days click down to the Nov. 8 final election to choose the next city councillor from Dorchester's District 3, Reporter news editor Gin Dumcius sat down for a more personal conversation with the two finalists from the Sept. 27 preliminary: Frank Baker and John O'Toole.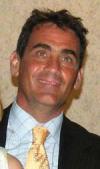 Frank BakerBaker: 'I'm Frank, I'm going to be here for you.'
Back in the early 1990s, a young Frank Baker lost three friends in the span of a year and a half. One friend was beaten to death in the street in an alcohol-related incident. Six months later, another friend committed suicide, which was also alcohol-related. Six months after that, one of his brothers fatally overdosed on heroin.
"That sent me in a spiral," Baker said in a recent interview with the Reporter in his Savin Hill headquarters. "You know: young kid, you don't know how to deal with your feelings, you don't know how to deal with your emotions, you're grieving."
Click here for the full article on Frank Baker.
John O'TooleO'Toole: Cedar Grove work makes me 'best candidate'
At 10 p.m. on a crisp Thursday night, John O'Toole was driving through Adams Corner in his old Cadillac after finishing up at a college fair with his son Jack. They cruised past the newly set-up outpost of Frank Baker's campaign, its windows still bearing a welcoming gift from an unknown assailant: Eggs.
Who did it, O'Toole didn't know. But no one had washed the eggs off. "It was bothering me," O'Toole later recalled.
So he dropped Jack off at their home, picked up a bucket of warm water, and headed back to his rival's campaign office where he quietly washed down the windows.
Click here for the full article on John O'Toole.