By Rachel Zarrell, Special to the Reporter
February 10, 2011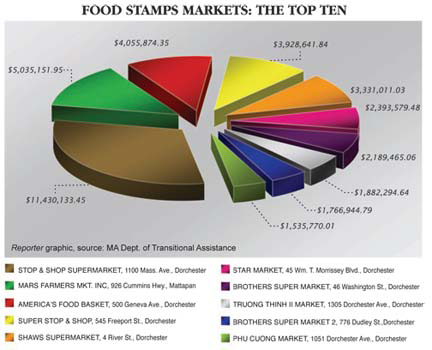 Top Ten Food Stamp Stores in Dorchester-Mattapan 2010
This article was reported by Rachel Zarrell, Gal Tziperman Lotan, and Stephen Kurkjian, and written by Zarrell.
The last year has been a difficult one for Matthew St. Andrews. In March, he was let go from his full-time job as a FedEx manager. Then in November, he went on unemployment after he lost his temporary construction job. With his income drastically reduced and heightened concern about how he could take care of the needs of his daughter, who stays with him three days a week, St. Andrews successfully applied for the federal food stamps program.
 "If I didn't have a three-year-old, I'd probably be more likely to sleep on friends' couches," he said, "and just survive on my own, however I could."
Anh Vo: Assists customers at Maria's Market on Dorchester Ave., one of many convenience stores with a high volume of SNAP purchases. Photo by Steve Kurkjian With a new food stamp card tucked in his wallet, St. Andrews is like so many other people in Dorchester who are having their own bad times. In the past four years, almost 17,000 Dorchester residents have joined the program, making nearly a third of those living in the neighborhood dependent on stamps to buy food for their families. At the end of last year, residents of two of the four Dorchester zip codes placed third and eighth, respectively, in the state for the greatest use of the program.
This increase in the numbers of recently unemployed and the concerted drive by the Patrick Administration to get the poor and elderly who qualify to participate in the program have elevated the numbers of those on food stamps in Massachusetts to the highest levels in history.
The upward trend, which is particularly distinct in Dorchester, is reflected state-wide – in the past four years, Massachusetts has seen a 74 percent spike in program participation, with about 11 percent of the state's population receiving assistance for food.
Julia Kehoe, the state official in charge of administering the federally funded program in her role as commissioner of the Department of Transitional Assistance, says the cause of the rise in the numbers goes beyond the hike in unemployment figures.
"The reason for the increase statewide is twofold: one is the economy, but the other is that we're simplifying the program, improving access," she said.
In its effort to increase the impact of the food stamps program, now referred to as SNAP (Supplemental Nutrition Assistance Program), Kehoe said the department reached out specifically to groups who had been under-represented in past years: the elderly, those who were unaware of their eligibility, and people who viewed the program as too burdensome to apply for.
"I think that there are people who were working poor, who weren't eligible for SNAP because they were slightly over income. So if there's any change in their household income, that would make them eligible for SNAP," Kehoe said. "So to the extent that Dorchester has more people who are lower-income than other neighborhoods in Boston, even if they're not currently poor, they are more vulnerable to any changes in the economy."
In Massachusetts, some 750,000 people are currently enrolled in the program and Kehoe's department anticipates the numbers of names on the rolls will continue to increase. Broadly speaking, as several recent visits to supermarkets and grocery stores in Dorchester confirmed, the categories of people who are participating in the program are:
The elderly: Two years ago, shortly after he retired, Edward King, 70, of Dorchester, went on food stamps. "I needed help," he said. "All I needed was food to assist me, that's it. I only take what I need." King gets Social Security benefits – $571 a month – and earns $260 every two weeks working one day a week at an assisted living facility. All of his money goes to supporting himself. "Any help I get, I consider it a good thing," he said.
The recently unemployed: For many people in the largely working-class neighborhoods of Dorchester, poverty may be only one paycheck away. These individuals often live week to week on their pay, so if they lose their jobs, they have nothing left in the bank to keep them afloat. Just as often, these people are a few dollars away from qualifying for food stamps, sometimes unbeknownst to them.
"Once you drop below a certain income threshold, you're certainly more likely to access the food stamp program," said Mark Melnik, deputy director for research of the Boston Redevelopment Authority, "and no better way to drop below that threshold than unemployment."
Long-term unemployed: Arthur Cope and Zueann Roy, who are in their mid-50s and live together in Dorchester, are both on disability and get food stamps in connection with their disability amounts. "We run out all the time," Roy said. "There's other bills to pay that we use our cash on, like the meds I have to take for my neck pain," she said. "Those co-pays take a lot of money, otherwise we'd have money to buy food." Roy has been getting food stamps since the disability began, "a couple of years ago."
Self-sufficient students: Shauna Buckley, 26, has been on and off food stamps for years. She attends Bunker Hill Community College and doesn't have a job, so she has been back on the program recently. "When I was employed I wasn't eligible, even though I was only making $9 an hour," she said, "and after rent I didn't have enough money for food." Buckley, a Dorchester resident, said she gets $200 a month, but that it's still not enough.
Parents/Caregivers: Faye Scott has been using food stamps for about a year to help feed her household of five, which includes three children. "It's enough, but the kids have to know there's no room for junk like candy or soda," she said. "There's only enough to go around." Scott, a Dorchester resident, went on the program after losing her job. "There was nowhere else I could turn to," she said. "It put food on our table. What more can I say?"
In all, Dorchester residents received $57.7 million worth of provisions last year in food stamps, up from $40.5 million in 2008, a 42 percent rise in two years. Qualifying for the program is solely dependent on the monthly income (minus allowed deductions) of the applicants – they must be at or below 130 percent of the country's poverty level at the time. To qualify currently an individual must show proof that he or she has a gross monthly income below $1,174. If the individual is the head of a two-person household, he or she cannot make more than $1,579 a month to qualify. For a three-person household, the limit is $1,984, and for a four-person household, it is $2,389.
Food Stamp Use on the Rise
Individuals can apply at the local office of the Transitional Assistance Department or online at mass.gov/snap with documentary proof of their eligibility at the ready. After enrolling in the program, an individual must visit a department counselor every six months to show that they still qualify for the assistance. If the applicant has found a part-time job and his or her income increases, the amount of money received in food stamps will be adjusted according to the new economic status.  
Once on the program, people can use their EBT (Electronic Benefits Transfer) cards to purchase a full range of food supplies, meats, dairy products, canned goods, fruits and vegetables. But federal law prohibits numerous items, including: "alcoholic beverages, cigarettes, foods hot at the point of sale, non-food items, vitamins or medicines and pet foods."
The vendors who take the stamps are responsible for enforcing the guidelines on what can and cannot be purchased with them. They are expected to inform participants that this item or that cannot be charged to EBT cards.
"Every retailer who is authorized to accept SNAP benefits...has a system built in that would literally not allow cigarettes or alcohol," Kehoe said. "It wouldn't allow processed food to go through, it wouldn't allow diapers to go through."
The food stamp program, which was established in 1939 to help feed families during the Great Depression, has grown to the point where its budget in 2010 was $64.7 billion.
A key criticism often voiced about the operation of the program is that despite its scores of billions in federal funds, there are no nutritional requirements laid out for its implementation. While Massachusetts encourages both its counselors and the community-based organizations that it works with to recommend healthy eating practices, none is required by the program.
Reporters for the Reporter found on their visits to supermarkets and grocery stores that while SNAP users cannot purchase pre-made meals with their EBT cards, they can have their potato chips and soda drinks paid for. But the Department of Transitional Assistance has made a diligent effort to improve access to healthy food by working with the state departments of agriculture and public health on initiatives like installing more SNAP machines at farmer's markets, and with the Harvard Pilgrim Foundation and The Food Project to bring "Boston Bounty Bucks," extra benefits for people who use their food stamps at the markets, Kehoe said.
Recently, the state won a competitive $20 million grant from the USDA for a healthy-eating incentive program to be tested in Hampden County, which includes two of the poorest cities in the state, Holyoke and Springfield. In the program, participants get extra benefits when they buy produce instead of junk food.
 "I think there are real limits to why low-income people aren't buying the healthiest food and I don't think it's just because people are making bad choices," Kehoe said. Instead, she insisted the reason is the lack of access to well-stocked supermarkets. Poor people are forced to shop for their groceries at convenience stores because they live in neighborhoods with no ready access to a supermarket, she said.
In Dorchester, for example, more than $7 million in food stamps was spent at convenience stores while $34 million was taken in at supermarkets and grocery stores in the first half of 2010. "In Dorchester there are corner stores that are much more accessible to people than some of the larger supermarkets, and that's really true in a lot of the rural areas. … Processed food is more available and less expensive," Kehoe said.
Given the vendors' mandated oversight, the larger stores and supermarkets have installed electronic pads at the check-out counters that automatically make the decisions. At the Tedeschi's in Fields Corner, the store's computer system rejects the SNAP card for any unauthorized purchases, and customers usually know they will have to pay for the items in cash, said store manager Hassan Ounnabi.
"They complain [that] coffee is food," said Ounnabi, who has been manager of the store for five years. "Or they [try to] buy a newspaper. I told one customer, 'Can you eat that? If you can eat that, I'll charge it [to the SNAP card].' "
At the America's Food Basket in Fields Corner, the second largest provider for food stamps in Dorchester last year, manager Edwin Polanco has been on the job for about three years. He estimated that 45 to 60 percent of the store's customers use food stamps, and said traffic is heavier during the first two weeks of the month.
If SNAP recipients don't have enough money on their cards, they either pay cash or drop items from their baskets, Polanco said. "It happens at the beginning of the month, when they think they have the money but they don't have it yet," he said. "If they do have cash, they use it. If not, we have to put it back and cancel some items."
Sean, a 27-year-old part-time worker at Stop & Shop, needs food stamps to support his one-year-old. By the middle of the month when he runs out of his food stamp allotment, he said he has to dip into his cash account to put food on the table. "I see it at work all the time. At the beginning of the month, everyone is using their cards. By the middle of the month less so, and by the end, not anyone. There's just not enough to go around."
Seeing their regular customers go without food at the end of the month can wear heavy on some vendors, particularly those who operate corner convenience stores. Anh Vo and her son, John Nguin, have owned Maria Market on Dorchester avenue for 15 years and they said they routinely allow regular customers to buy basic provisions like milk, bread, and eggs on credit.
Showing the piece of paper on which she keeps track of who owes her what, Vo asked, "What can we do? These are our regular customers. We can't send them away hungry."

Stephen Kurkjian is the Senior Investigative Fellow, Rachel Zarrell and Gal Tziperman Lotan are reporters at the Initiative For Investigative Reporting in the School of Journalism at Northeastern University. Their work for the Dorchester Reporter is funded by grants from the John S. and James L. Knight Foundation and the Ethics and Excellence in Journalism Foundation. The foundations are committed to supporting investigative and watchdog journalism by community news organizations in the Boston area.

Top 40 Dorchester stores by SNAP payments in 2010


Top Mattapan stores by SNAP purchases in 2010