By Reverend Ronald Odom, Sr.
May 6, 2011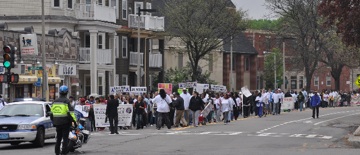 Mothers Walk for Peace 2011: About 600 people marched down Dorchester Ave. in vanguard of the pledge walk. Photo by Ed Forry
There have been many stories written about the loss of our son, Steven, who was killed on October 4, 2007 at the age of 13 as he came home from playing basketball. Many people in our community have shared our pain, and many strangers understand our grief.
Although we have accepted the support of so many, it has taken three years for me to be able to talk about the loss of my son. How hard it was to pass the place where his body lay. The pain of seeing his classmates from the school he attended wearing the same color sweatpants he would wear. The sadness was almost unbearable. I couldn't talk about it and couldn't share it. It got so bad that I went to the doctor, hoping that she would find something wrong with me. I hoped she would give me some medicine to take the pain away. But she couldn't find anything wrong.
And then she asked me, "Is something going on in your life?" I had to turn away. I couldn't even look at her. She had asked me the worst question. And that was when I started to break. I let the pain in. My wife helped me. She was the one who could talk about the pain for me. But the journey to healing was one I had to take myself.
God helped me. I remembered that he had lost a son, too. And I knew that God would be with me through the journey towards peace. And I knew that other people would help me, too.
The journey from pain and anger to power and action can be long – especially for men who think we need to be strong. The Louis D. Brown Peace Institute in Dorchester helps people along the journey of healing. They meet us with the principles of peace – love, unity, faith, hope, courage, justice, and forgiveness – so that we can truly achieve peace.
Mother's Day is just around the corner. Like too many families, this particular day is forever changed for us. My wife will not have one of her beloved children show his appreciation. And so, on the morning of that special day, we will join those who gather for peace – survivors and those who support peace for families everywhere -- and we will walk in the Mother's Day Walk for Peace.
On Mother's Day, my wife and I – along with the support of members of our Church and the R.O.C. (Redefining Our Community) neighborhood watch (birthed from the murder of Steven) – will walk with other parents and groups. We will remember our Steven as others remember their loved ones. And we will appreciate those who have not been personally touched by violence, but support peace for our families, our community, and our city.
If you can, join us at the Mother's Day Walk for Peace. If you cannot join us, please wear some purple to symbolize your commitment to peace. And please say a prayer for your children and the mothers who will miss their children. This Mother's Day, let's all stand together for peace. Too many people think that they are alone, but we all must be together for peace. That is the only way.
Reverend Ronald Odom, Sr. and his wife Kim are founders of the True Vine Church in Dorchester. Their son Steven was shot and killed outside their home as he returned from playing basketball.. The 15th Annual Mother's Day Walk benefits the Louis D. Brown Peace Institute, founded in memory of Louis Brown who was murdered in 1993 on his way to a youth violence prevention meeting at the age of 15. For more information on the Mother's Day Walk visit ldbpeaceinstitute.org.