By Jackie Gentile, Special to the Reporter
April 28, 2011
81 Brent StreetThe new home at 81 Brent Street may look like any other house on its Codman Square block, but the three-family is different from the others. It's completely green - not in color but in development and function. From the foundation to the solar panel-lined roof, the entire house is environmentally sustainable.
Codman Square Neighborhood Council President Cynthia Loesch had repeatedly proposed ideas of bringing sustainable building projects to the neighborhood, but says the council never got the response they wanted to hear from developers.
"I decided to do it myself," Loesch says. "Let's find out how much it really costs by square foot. Let's find out all the proper rhetoric so we can argue with the developers better, and let's really set a standard in Codman Square on the kind on housing and development we'd like to see."
Loesch and her fiancé took out loans and began planning their new home with developers. Throughout the project, they have maintained transparency with residents who want to know more about their green home.
"We're just hoping that they can use this house to pull different aspects from it," Loesch says.
"We want it to be healthier, we want it to be more efficient, and we really just want to create a showcase home to show what can be done in our neighborhood."
In addition to compliance with BRA's zoning process, Loesch has sought certification in Leadership in Energy and Environmental Design, a third-party certification system of the U.S. Green Building Council. When completed in late May, the residence at 81 Brent Street will be Dorchester's first LEED platinum home, the highest performance tier a LEED certified home can achieve.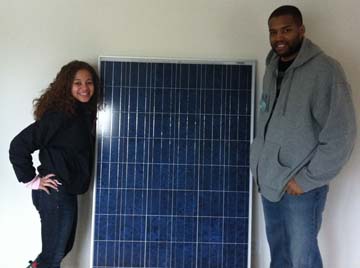 Cynthia Loesch and Ivan LirianoNot only must the end result be sustainable but development must meet green standards as well. Environmentally Preferable Products must be used in the walls, ceilings, piping and cabinets. For all materials used, 90 percent of the product must have its entire life cycle within 500 miles of the project site. The exterior sports fiber cement siding, which looks like wood but will not rot and will not affect air quality like vinyl. The very foundation of the house must meet EPP specifications. Massachusetts contractors are called for the job to keep the work local.
Even inside the house, there are measures taken to maintain sustainability. Low VOC (volatile organic compounds) paint is used, reducing the vapor pressure released into the air. In a properly insulated home such as 81 Brent St., air quality is very important. Tenants will have to adhere to a no-smoking policy. There will be no carpets in the house as they attract dust and mold. Loesch will provide tenants with Energy-Star products and Google power meters to measure the amount of energy generated in real time.
Loesch notes that everyone can make small changes in the upkeep of their homes to go a little greener. Many cultures do not wear shoes in the house since it spreads contaminants. Natural, chemical-free cleaning products are available in stores.
"We want just to have everybody understand that green and healthy are not two separate things," she adds.
With tax incentives, rebates and utility companies paying green home residents to generate energy, Loesch encourages everyone to consider healthier housing. "I think at the end of the day, it doesn't have to be something that's so expensive."
She and her fiancé share everything from costs to knowledge so other residents can see for themselves how affordable green living can be. Last Saturday, Loesch teamed up with Boston Shines, B.O.L.D. Teens, Alternate Energy, Co-op Power, Land Escapes and the neighborhood council to hold the Educational Installation of Hot Water and PV Solar System to community members.
Two years in the making, the house's construction is nearing its end but residents are encouraged to participate in future community information sessions and installations. A summer open house is also in the works.
For more information, visit 81brent.org or attend the Rainwater Harvesting System Installation on Saturday, April 30 from 8 a.m. to 2 p.m.