By Pat Tarantino, Reporter Staff
May 13, 2011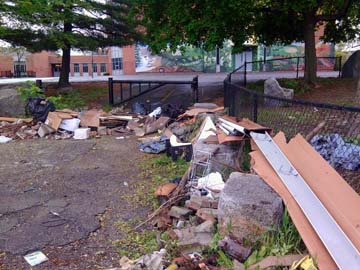 Lee School dumping: The scene last week after someone dumped trash outside the Lee School, which had just been cleaned by volunteers.
Parents and faculty at the Lee Academy were shocked to discover a truckload of debris dumped behind the recently-cleaned school grounds Wednesday morning.
A large heap of doors, drywall, televisions and trash bags littered the rear access path leading to the schoolyard, creating an unsightly barrier between the school and Harambee Park. Adding insult to injury, 30 volunteers from the Boston Project Ministries (BPM) and the Lee spent three and a half hours cleaning the space less than a week before the discovery.
"You had all these bricks, big boards with nails sticking out of them right by where our kids play," said Odette Williamson, who discovered the trash while dropping off her child Wednesday morning. "It was gross."
Williamson immediately alerted faculty members who contacted Boston Public Works to pick up the mess, a project completed by Thursday morning.
Inspectional Service Department investigators combed through the trash in hopes of tracking down those responsible for the mess, but were unable to find any leads. Illegal dumping carries a minimum fine of $1,000 up to a possible $3,000 penalty.
Lee School dumping: Volunteers cleaned out trash behind the Lee Academy last weekend.
Lee Academy parents, teachers and students have cleaned the area around the school twice a year since 2005 and have been assisted by volunteers from the BPM since 2006.
BPM executive director Paul Malkemes has two daughters who attend the Lee and said much of the Talbot-Norfolk Triangle area has had longstanding problems with illegal dumping.
"My immediate reaction was one of extreme frustration," Malkemes said. "There's been illegal dumping in our neighborhood for years, it just shows a lack of care and respect by whoever is responsible."
Boston Public Schools spokesman Matt Wilder commended the Lee Academy community for their hard work.
"Our school communities take a lot of pride in the areas around their schools," Wilder said. "It's disappointing that someone in our city would do something like this."