By Gintautas Dumcius, News Editor
August 30, 2011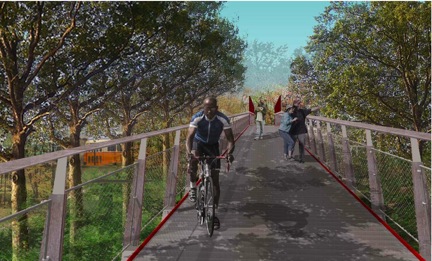 Mattapan Crossing and Canopy Walk: A graphic from a DCR presentation shown during a meeting on Aug. 30 depicts a proposed bridge at Mattapan station.
Residents from Dorchester, Mattapan, and Milton sounded notes of support Tuesday night for the state Department of Conservation and Recreation's long-awaited proposal to fix the so-called missing link along the Neponset Greenway trail, connecting the riverside path from Pope John Paul II Park to another state trail in Hyde Park.
The proposed link, expected to cost between $7 million and $9 million, picks up where the trail now ends at Central Avenue, going past Valley Road and crossing over a bridge into Mattapan behind the Ryan Playground and baseball field. From there, the riverside path would follow River Street until it hits Fremont Street.
Greenway route: The preferred alternative as shown at the meeting this evening. DCR graphic
DCR officials are proposing a 15-foot-high "canopy-style" boardwalk near Fremont that would clear the trolley tracks leading into the Mattapan Square T station. The span, which, like the path, is planned to be 10 feet wide and would run for about 1,000 feet.
The boardwalk is the result of a compromise between DCR and the MBTA, which had opposed an original proposal to include an at-grade crossing at the Mattapan Station, citing federal safety guidelines.
DCR officials, who are hoping to tap a federal stimulus grant to finish off a trail that will rival its Charles River counterpart, said they also would also like to install signage, fencing, and some security measures. They are aiming for a construction to be completed by fall 2013, though the project must still receive permits and pass reviews, and the federal money isn't guaranteed.
DCR officials say they hope to set up a visitors' center on land the agency purchased that is located next to the MBTA station.
Jack Murray, DCR deputy commissioner, and Deneen Crosby, the project manager for the architectural firm Crosby Schlessinger Smallridge LLC, laid out the plan for 200 residents who packed a meeting at the Foley Senior Residences in Mattapan.
"This has so many of the elements that we are striving for," said Vivien Morris, chairperson of the Mattapan Food and Fitness Coalition, which has been pushing the department to finish the route.
Valerie Burns, head of the Boston Natural Areas Network, another group pushing for the completion of the trail, called the proposal a "great compromise" and "something everybody can really live with and enjoy."
State lawmakers also said they were satisfied with DCR's presentation, which drew a round of applause from the crowd. "The administration has listened to all of the concerns and while the plan is not yet finalized, it is clear they have bent over backwards," said state Sen. Brian Joyce, a Milton Democrat.
Added state Rep. Linda Dorcena Forry, a Dorchester Democrat who represents a slice of Milton: "I think it's important that we connect our communities, Milton and Dorchester and Mattapan."
State Rep. Russell Holmes, a Mattapan Democrat, said a consensus clearly exists, but that some issues, such as safety and continued engagement between the state agencies and community members, remain.
Lee Statham, an Eliot St. resident, said she never got a requested meeting with DCR and wanted a commitment from the agency to talk to her and her neighbors about their safety concerns. She said she was concerned about individuals "jumping the fence and coming into my backyard," where her children play.
DCR officials indicated transit police and Milton police could share responsibilities. For the pedestrian overpass, they raised the possibility of surveillance cameras, low-level lighting, and wireless police boxes.
The DCR is accepting public comments on the proposal until the end of September, and plans to hold another public meeting later this fall.
A large PDF of the presentation is available here.