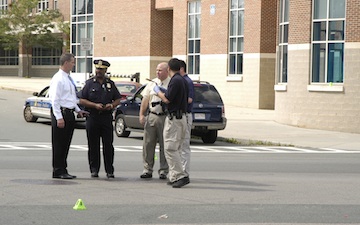 Shooting outside Lilla Frederick School: Investigators on the scene at Columbia Rd. and Wyola Place. Photo by Bill Forry
Columbia Rd. was blocked off on both sides of the street for two blocks on Thursday afternoon as police investigated a shooting that left at least one person wounded and a window of the Lilla Frederick Pilot School with a bullet hole.
At least eleven shell markers could be spotted at the scene, at the intersection of Wyola Place and Columbia Rd., but nobody inside the building was hit. Police Commissioner Ed Davis and Superintendent Daniel Linskey were on the scene.
According to police, the suspect's vehicle is a black Jeep Liberty.
The shooting, outside 275 Columbia Rd., involved at least 11 rounds - a few feet from where two men in a car were shot to death early Monday.
One parent waited anxiously behind police tape for his young son to exit the school. The man, who did not want to be identified, said his son was attending summer school classes at the Frederick.
Moments later, a police officer escorted the boy from the school to meet his dad.